Refugee and migrant girls need protection in Mexico 
30 October 2023
Between 3,000 and 6,000 migrants and refugees arrive in Mexico every day, many of them forced to flee their countries due to armed groups and violence.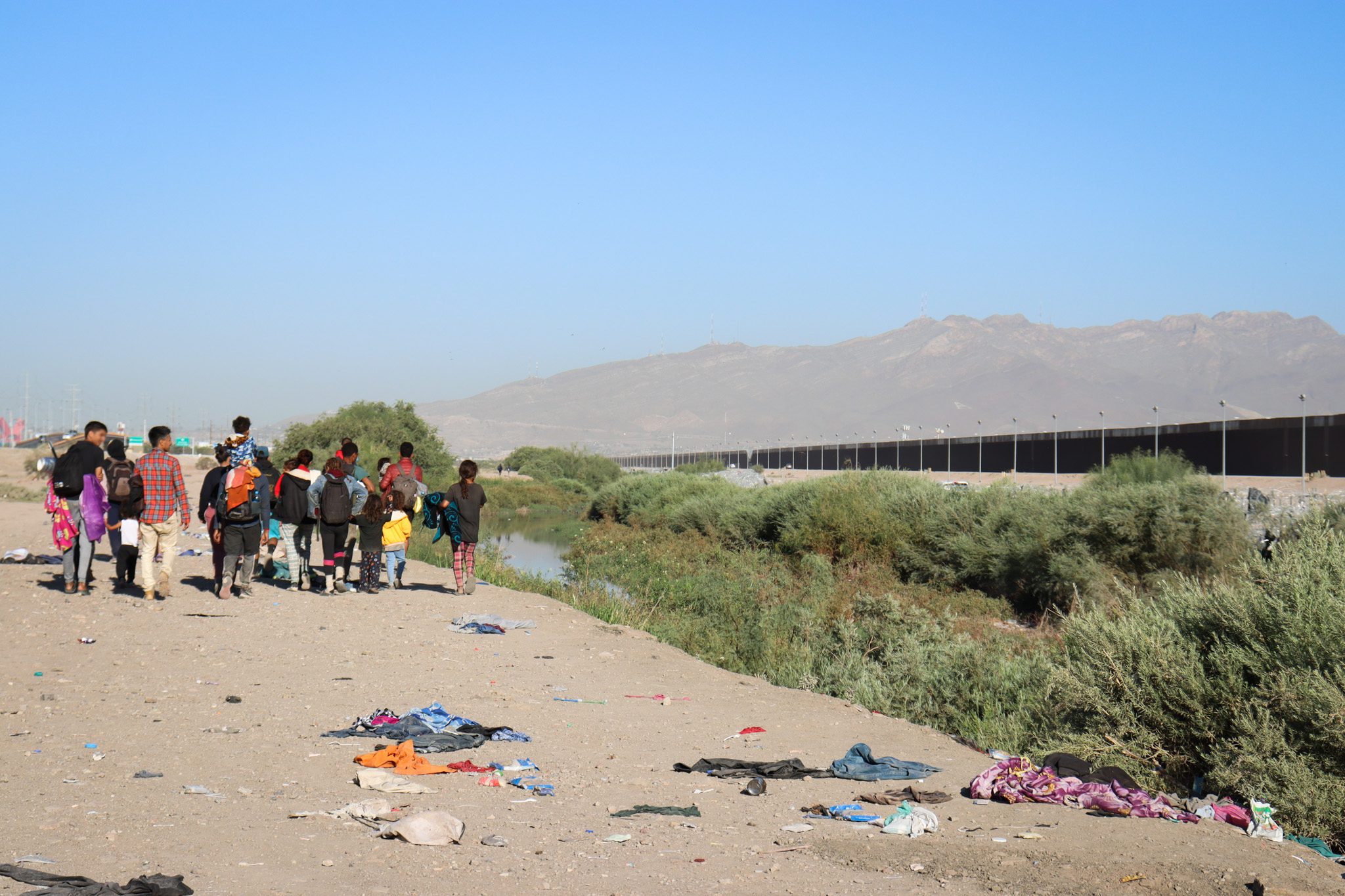 Migrant family before crossing the border into the United States.
On Mexico's northern border, 12-year-old Andrea* explained that she and her family were forced to flee their home due to threats her mother faced in Honduras.
"She was subjected to an assault and received death threats, prompting us to flee for our safety."
During their journey, migrants and refugees are also constantly exposed to protection risks, such as sexual violence, trafficking, rape, robbery, extortion and forced recruitment of children. Upon arrival in Mexico, they frequently face difficulties accessing basic services such as health, education and employment, and they lack access to fundamental international protection mechanisms to which they have a right, such as the possibility to seek asylum, leaving them in a situation of protracted limbo.
This is because, often, people on the move do not have access to the right information about their rights. Their predicament is further exacerbated when they misplace their documents or have them stolen during their journey. Retrieving these documents necessitates going through a legal process. The asylum application process can also be lengthy, with appointments scheduled months in advance without any guarantee of approval.
Arturo*, a 29-year-old father explained why he left Venezuela, "I fled from Venezuela to Ecuador out of fear; they killed my brother over there."
A few years later, he was forced to flee Ecuador again with his 4-year-old daughter, after receiving death threats from criminal groups attempting to extort money from them.
His 29-year-old cousin, Adriana*, who fled with him, along with her husband and 8-year-old daughter, describes a violent robbery attempt during their journey, saying: "All I could do was hold onto my baby and pray."
The worsening migration crisis at Mexico's borders
According to the UN Refugee Agency, between 3,000 and 6,000 people arrive in southern Mexico daily. Additionally, more than 250,000 people have crossed the Darien jungle in Panama, marking the highest number of irregular crossings ever recorded. Of those, 16% are children. If the trend continues, the number of people crossing will be more than 400,000 before the end of the year.
Alongside Mexicans who have been forcibly displaced, nationalities on the move to Mexico's northern border include people from South America (Venezuela and Ecuador), Central America (Honduras, El Salvador, and Nicaragua), the Caribbean (Haiti and Cuba), as well as some African and Asian countries. They are often making the dangerous journey north in the hope of escaping situations of conflict, violence, insecurity, and persecution.
Plan International's call
Based on this, Plan International insists for more information on protection mechanisms and services to be made available to people on the move – this is critical in supporting migrants and refugees to understand their rights and access the assistance they need.
This includes unaccompanied and separated children, who are particularly vulnerable to exploitation and abuse at borders.
Dirk Glas, Plan International Mexico Country Representative, calls for strengthening local and national protection systems, saying: "Girls, adolescents and their families are disproportionately affected in this crisis, facing multiple dangers and untold suffering, often in their home countries and also during their journey, with many losing their lives along the way or facing extreme violence.
"We urge national authorities to ensure compliance with national and international protection mechanisms, international humanitarian and human rights law and the rights of refugee, displaced and migrant populations, so that all people, especially children, are protected and receive the assistance they need".
"We are facing an unprecedented migration and humanitarian crisis in the Americas, which demands a global and decisive response. Our humanitarian commitment remains unwavering in assisting migrants and refugees to secure their future, especially girls and adolescents who are the most vulnerable. We strongly advocate for all people to be able to realise their rights and access the international protection they so urgently need", emphasised Dirk Glas.
*Names have been changed to protect identities.
Emergencies, Protection from violence, Child protection in emergencies, Migrant and displaced children