Cyclone Freddy leaves families cut off from shelter, food and clean water
15 March 2023
We are extremely concerned for the safety and welfare of children and their families after Cyclone Freddy hit southern Africa for the second time in a month.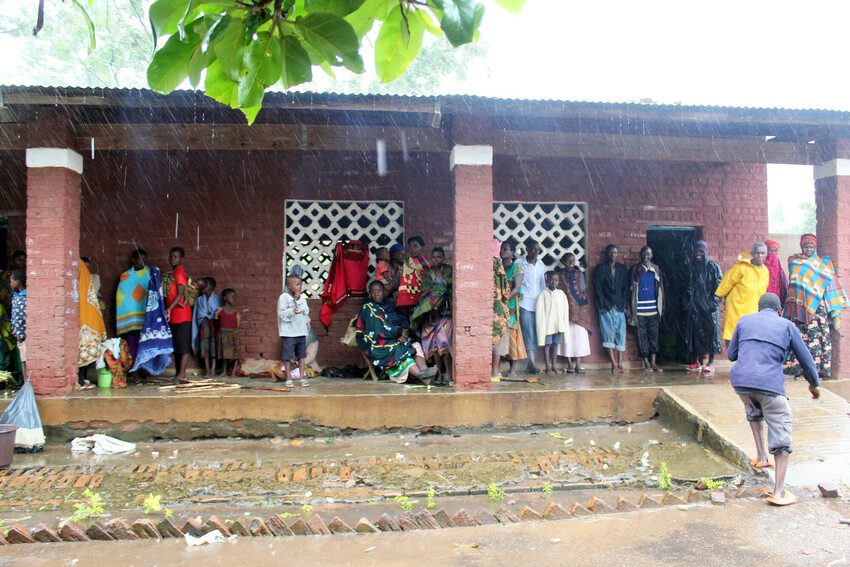 People sheltering from heavy rain at a school building in Malawi.
More than 100 people have been reported dead and scores injured after the tropical cyclone ripped through central Mozambique and Malawi on Saturday, razing buildings, damaging infrastructure and telecommunications and causing severe flooding and landslides.
Thousands of people are now in urgent need of shelter, clean water and food, with children, especially girls, hardest hit.
Plan International emergency response teams are on the ground in both Mozambique and Malawi and are working urgently to assess the impacts of Cyclone Freddy, one of the longest and strongest storms on record in the southern hemisphere.
Families forced from homes
At least 22,000 people have been forced from their homes in Mozambique alone, a figure which is expected to increase sharply in the coming days as rescue teams reach more areas.
"Eachtime it rains, I feel like it will not stop," said 16-year-old Lucia, who is now out of school and staying at a camp for internally displaced people in Nampula province, after first escaping the conflict in her home area, and then a previous cyclone, Cyclone Gombe. "I have never cried as hard as I did when the cyclone destroyed our home."
Lucia is frequently upset both by her memories of the conflict, and by the howling sound of the wind and rain. "It was so violent. I sleep fearing the next one," she added.
The Government of Malawi has declared a state of disaster as storm induced rainfall continues, pushing more families away from their homes.
Scaling up response efforts
Plan International was already responding in many of the affected areas after Cyclone Freddy first made landfall in February, providing critical items including blankets, clothes, jerry cans, buckets, soap and dignity kits. The NGO is currently scaling up efforts to support communities in wake of the storm's second landfall.
Widespread damage to public infrastructure and services – including roads, water supply systems, schools and health centres – has left many of the worst affected locations cut off as heavy rainfall continues.
"Cyclone Freddy hit Zambézia province with heavy rain and strong winds. Here in Mocuba District, where Plan International has an office, electricity poles fell, sand roads were destroyed dragged by the power of the water, many precarious houses destroyed and families displaced. The rains continue to fall," says Elsa Nossomarques, a field officer for Plan International in Zambezia, Mozambique.
"The rains continue to pour and reports of landslides in villages continue. The biggest challenge now is access as most of the affected communities have now been cut off and are currently inaccessible," adds Chris Katutu, Regional Manager for Plan International in southern Malawi.
Plan International is also concerned by the increase in cholera cases, which had been rising significantly in both countries prior to Cyclone Freddy's second landfall, and warns that safe water supplies and sanitation facilities must be restored urgently.
Women and girls are at greatest risk when there is a shortage of safe water, sanitation and hygiene services, as they are typically responsible for collecting and managing household water supplies. A lack of water, soap, and secure changing and washing facilities also makes it difficult to manage menstrual health.