Promoting children's health during World Breastfeeding Week 2023
23 August 2023
From 1 to 7 August 2023 in celebration of World Breastfeeding Week, Plan International Laos collaborated with partners to improve the health of young children.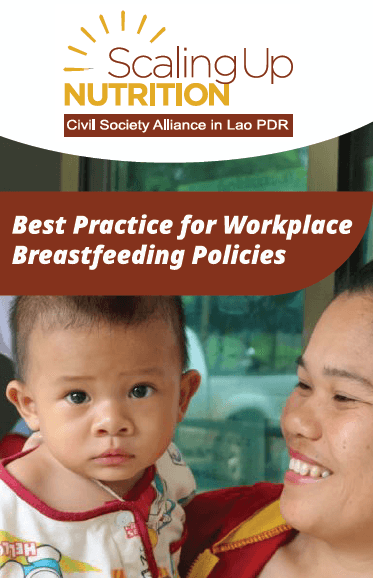 Over the past 7 years, as part of our influencing work, Plan International Laos has funded the Scaling Up Nutrition Civil Society Alliance (SUN CSA) to push for improved nutrition for young children and their mothers. Through this network of 73 organisations, we influence and improve knowledge and behaviours around nutrition and breastfeeding. Last year the network conducted 48 activities and reached over 1.7 million people in Laos through online campaigns.
World Breastfeeding Week Actions
"Breastfeeding in the workplace is key to healthy babies, happy staff and productive workplaces" said the Lao Vice Minister of Health to the 170 participants who attended the SUN CSA Laos Breastfeeding Friendly Workplace conference.
This event was one of 5 national actions supported by Plan International Laos during World Breastfeeding Week 2023, including:
An event to raise money and support from other organisations to promote breastfeeding
An award ceremony to recognise and promote organisations that create breastfeeding-friendly workplaces
Social media campaigns to build public support for breastfeeding and show how organisations are supporting mothers with young children
How our programmes promote breastfeeding
We support hundreds of families in the Saravanh and Oudomxay provinces by:
Strengthening healthcare services in rural areas
Improving breastfeeding counselling services
Building knowledge and behaviours among community members to improve their children's health
How our breastfeeding policy supports our staff members
Plan International Laos' progressive workplace breastfeeding policy supports new mothers returning to work.
Hear about Plan International Laos' breastfeeding policy, and from Ms. Naly Maniseng, Assistant for the Public Health and Nutrition Programme at Plan International Laos on her own experience of returning to work as a new mother.
Contact us
If you would like to know more about how Plan International Laos works alongside partners to promote breastfeeding across the country, please contact us:
SUN CSA Facebook Page SUN CSA Website SUN CSA Monthly newsletters
Early childhood development, Skills and work, Livelihoods, Parenting