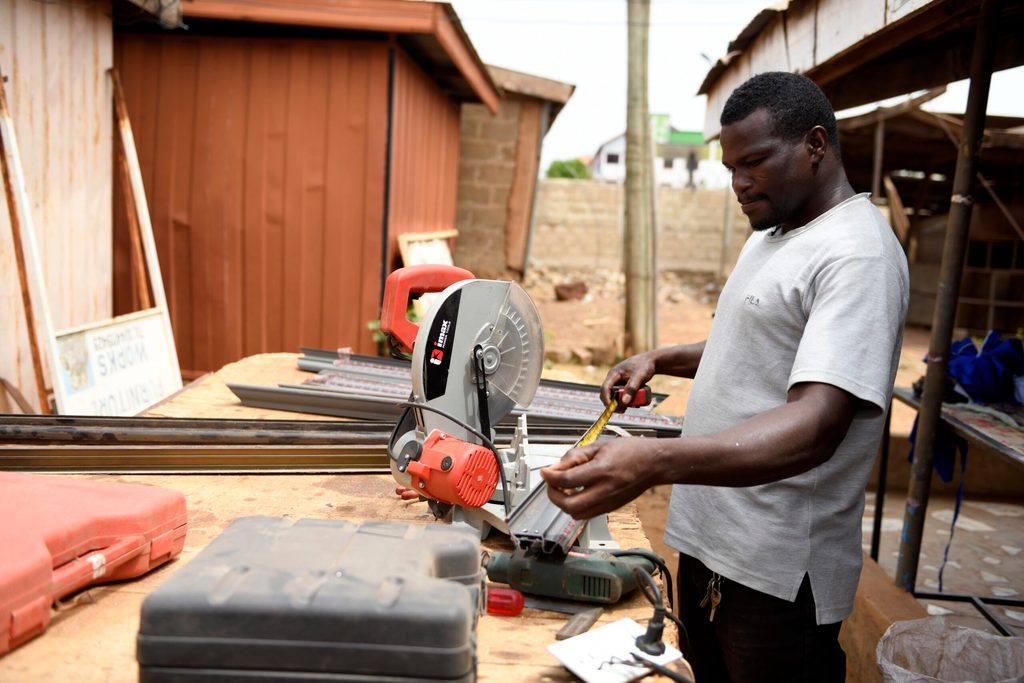 Together with his wife, he has 6 children who are all at various stages of their education. Solomon is the sole breadwinner for his family. Just like many steel bending businesses in Ghana, Solomon's company was classified under the informal sector with little support from Government.
In 2021, Solomon enrolled in a business operation program led by Plan International's PASEWAY project in collaboration with our local implementing partner – RAINS with funding from the German Federal Ministry for Economic Corporation and Development (BMZ). One of the core objectives for the project is formalising informal businesses such as Solomon's company in the Tamale Metropolitan District.
Through the training program, Solomon gained an appreciation for building relationships with other businesses and professionals in the district to exchange ideas, knowledge, and best practices. The project helped him to learn from his mistakes and enhanced his time-management, bidding, lobbying, and leadership skills.
A year on, Solomon is a happy man because following the training, he received the support he needed to formally register his business with the Ghana Revenue Authority (GRA) and also with the Social Security and National Insurance Trust (SSNIT) – a statutory public trust charged under the Pensions Act to cater for pension schemes.
"Previously, all the money I earnt from my work went towards looking after my family and other frivolous lifestyle choices with little or no savings for the future, but during the training, the program officers helped me understand why I should pay taxes to the GRA on my monthly earnings and save for my old age when I can no longer work. I thought SSNIT contributions were only for formal government workers and not for artisans like us."
Solomon says that he has been able to scale up his business after taking part in the project.
"Because of the bidding, lobbying, bookkeeping, and other skills I learnt from the training, my confidence level in competitive bidding for jobs has shot up. I can now lobby for government and other private sector jobs which previously wasn't the story."
"Lobbying for government and private sector jobs requires a lot of documentary evidence, which I previously didn't have but through this project and with my business registration, all my documents are intact and up to date to prove my credibility. The finishing of my goods has also improved because I am now aware that my products are going into public offices which can be seen by many. I now receive calls from individuals who saw my work in one office or place and want same."
Solomon's income has also improved because he is now able to track where his earnings are going due to his bookkeeping skills.
"I no longer spend money anyhow, I now have a bank account for my business and have learned how to save because with the kind of clients I have now and the deadlines they give, I am forced to pre-finance many of the jobs before payment."
Solomon is now contributing to a pension scheme for his apprentices who are currently working with him.
"All my current apprentices have been registered under the scheme, an act which is very uncommon for artisans in this profession. I am glad I can now contribute something to the future of these men and women.
"I am very grateful to the PASEWAY project and RAINS for putting me ahead in this business over my colleagues. This training has really supported my long-term goals for my business. As well as increasing my earnings and skills, I feel very good when I see my quality products in places I previously only dreamed of."