The couple who advocate against female genital mutilation
Ihsan and Saleh challenged societal pressures and abandoned the practice of female genital mutilation within their own home. Now they are educating their community and encouraging others to abandon this harmful tradition.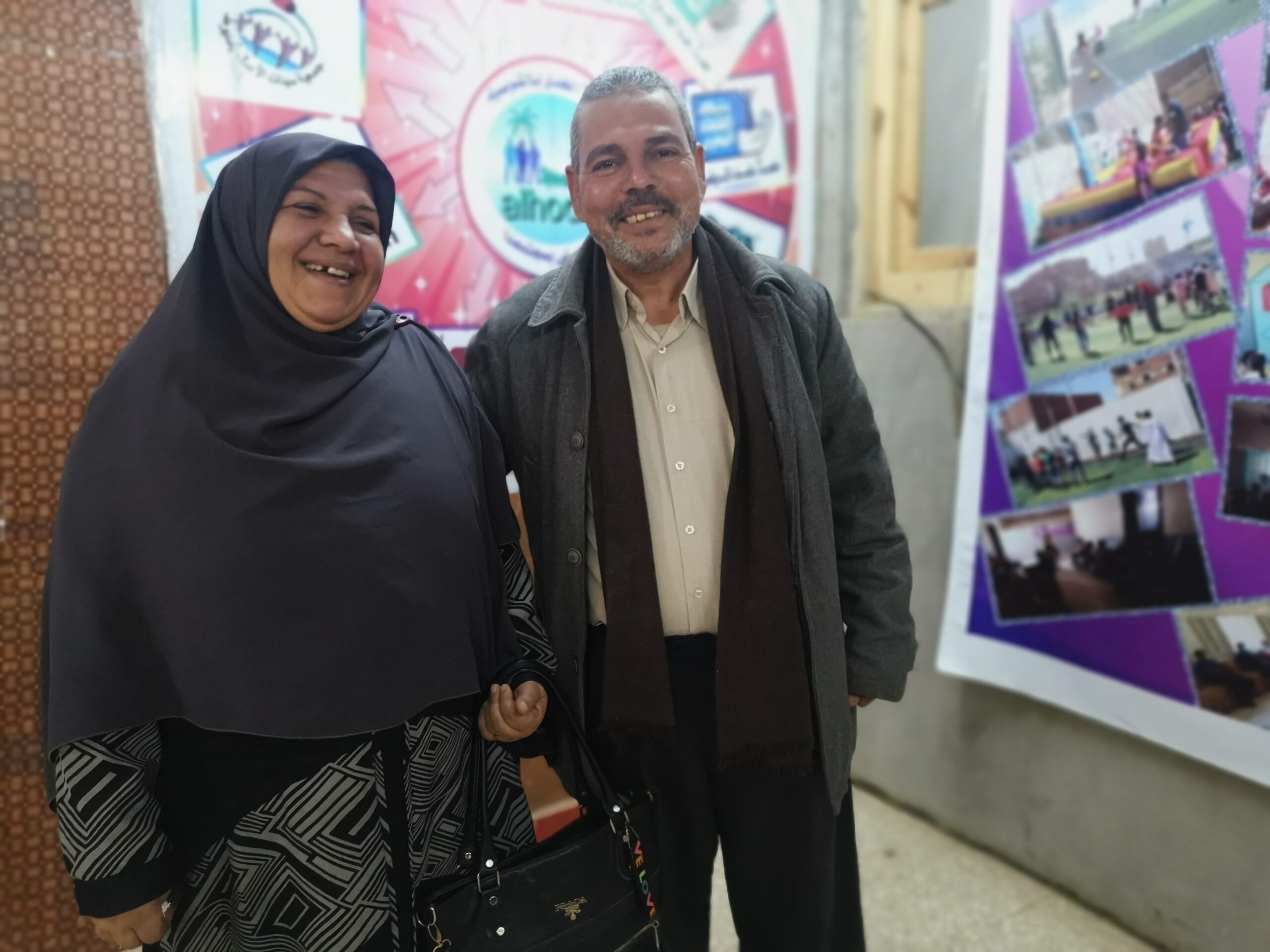 Ihsan and Saleh fight female genital mutilation.
Saleh, an Arabic instructor and his wife Ihsan, a social statistician, are honoured as a model couple who successfully managed to challenge the pressure to conduct circumcision posed by their family and society, and make an informed decision for themselves.
The practice of female genital mutilation (FGM) is a deeply entrenched tradition that is hard for parents to challenge due to social pressure. Ihsan and Saleh, equipped with knowledge they gained through a Plan International project, were able to challenge this social pressure and abandon the practice.

Ihsan and Saleh faced society's pressure together
Saleh was afraid that his decision to refuse to circumcise his daughters was not the right one, "There was a misunderstanding of the Islamic religion, as people thought circumcision is a Sunnah from Prophet Mohamed, which is totally not true," Saleh said. His wife Ihsan succeeded in convincing him to attend the awareness raising sessions held by Plan International as part of the Eliminating FGM and Harmful Practices project, implemented in their village in Assiut Governorate.
Societal pressures nearly forced Saleh and Ihsan to accept this harmful tradition, as they were afraid of being ostracised if they didn't circumcise their daughter, and that this would reduce her chances of getting married and having children. However, Saleh and Ihsan were aware that it is an inherited custom, and once they were armed with the facts they were able to stand together in making the right choice for their daughter.
Now they are two of the most influential role models, who have helped spread awareness of the project and the truth about FGM.
The beginning of change
It all began with Ihsan, who heard through a co-worker about Plan International's Women and Life sessions, along with the Champions of Change activities aimed at children and adolescents. As a result, she decided to attend the sessions and enrolled her daughter in the Champions of Change programme. "I was happy that she will get to know herself and her body from specialists who know how to deliver the information," Ihsan said.
By attending the seminars, Ihsan gained new awareness of her role as a woman in society and how important it is to share her opinion and trust her decisions. She also attended training on communication skills and problem solving, but it was the sessions that explored FGM and early marriage that really grabbed her attention; she has three daughters and had already circumcised the two older girls despite her doubts that it may be wrong.
"We inherited the tradition of circumcision, so I did it for my daughters as my mom and my mother-in-law instructed," Ihsan explained.
She now acknowledges that her doubts were right and has new insights into the harmful effects of this practice on girls' physical and mental health, and its implications for sexual relationships. Ihsan wanted to stop the circumcision of her youngest daughter, who was about to be subjected to it, so she talked to Saleh who completely refused at first to discuss the matter.
"I was a supporter of circumcision due to false religious teaching," he explained, adding that society could reject them if they didn't follow the tradition.
Determined to protect her daughter
Ihsan didn't give up when her husband refused to talk about it, but continued to insist until he agreed to attend one of the sessions that dealt with female circumcision and all its health, religious and legal risks, and included a talk by a Sheikh from the Ministry of Endowments, as well as a doctor and a lawyer. As a result, Saleh started to change his belief that FGM was a religious act.
He realised that his fear of not performing circumcision on his daughter was misinformed, and that circumcision is just an inherited tradition and not a Sunnah or evidence of chastity. Others advised Saleh that education is what raises good children, and that's when he decided to face society and speak openly about their decision to reject the practice and the harm it causes. Now he participates in the International Women's Day events, attends seminars on the issues and discusses the facts with supporters of FGM.
"Unfortunately, we met strong opposition at the beginning, even from more educated people," but this didn't prevent Saleh and Ihsan from persuading others of the need to stop circumcising girls, even though they suffered a lot with their elder daughter, who was divorced because of circumcision.
The high number of cases of girls who have had a life-threatening hemorrhage as a result of circumcision is also evidence of the harm it can cause. Salah believes that the reason why circumcision is so widespread is the lack of sufficient awareness of the dangers, beside the belief that links this practice to religious doctrine. So, he decided to raise awareness through his job as a teacher during his interactions with students and other teachers.
Likewise, Ihsan has also started talking to her co-workers on the issue. "I tried to make them understand that if they don't raise their daughters and educate them well, circumcision will not protect them, it will even have negative impacts on their health and psychological status," Ihsan said.
Empowered with knowledge to stand against FGM
The Eliminating FGM and Harmful Practices project, which was funded by the United Nations Population Fund, empowered non-governmental organisations in 3 villages in the Asyut governorate to address and prevent FGM. The project did this by raising community awareness of the physical and mental risks FGM posed to girls and young women, and the religious and legal facts surrounding it. 
Protection from violence, Sexual and reproductive health and rights, Female genital mutilation, Gender-based violence