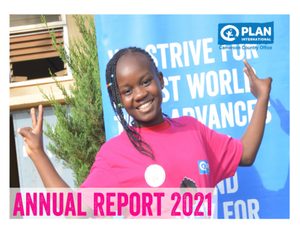 This annual report highlights the key results achieved by Plan International Cameroon in 2021. 
Our financial year for 2021 was marked by efforts aimed at capitalising on the gains from our internal transformation process. The process was started in the middle of the last financial year to attain operational excellence.
With a revised country strategy, our interventions were centred on both community development and humanitarian responses. These focused on our various areas of intervention across Cameroon for the benefit of children and youths, especially girls and their communities.
Early childhood development, Education, Emergencies, Girls Get Equal, Protection from violence, Sexual and reproductive health and rights, Skills and work, Youth empowerment, Child protection in emergencies, Gender-based violence, Sexual and reproductive health services, Youth economic empowerment in emergencies