Worsening violence in Cameroon's North West and South West regions is taking an increasingly heavy toll on communities, with renewed attacks against schools and more than 1 million people displaced from their homes. Girls and young women are being hardest hit, with risks to their security, education and health.
The beginning of the ordeal for Theresia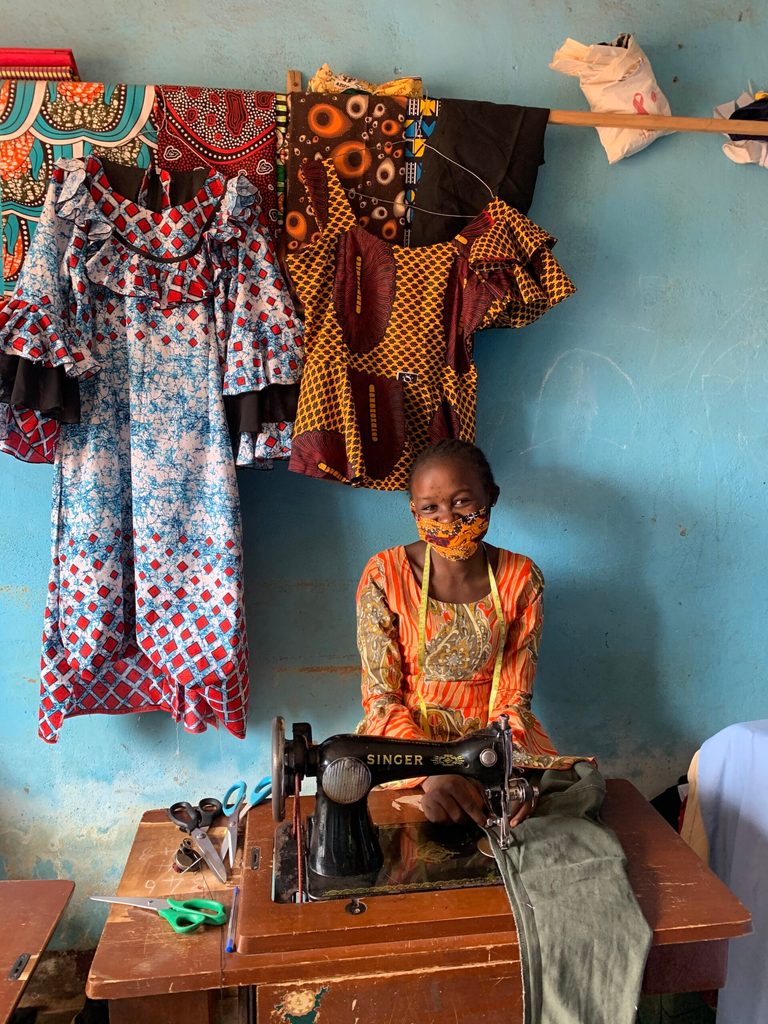 "The sounds of gunshots and constant hiding became terrifying. The situation got worse so we had to go somewhere else," explains 16-year-old Theresia who had to flee her home in Cameroon's North West region after it was attacked by armed men.
Along with her mother, sister, and 6 brothers, the family sought sanctuary in a nearby hospital. It which was the only safe place in the village. But not long after, the hospital was also attacked forcing Theresia and her family to leave her village and move to a safer town.
Theresia and her family are now living with 70 other people in a 2-bedroom house. Without an income. Even eating is out of reach sometimes. "A full meal is a big luxury for us. Somedays, we go without food. In addition, I was forced to send 6 of her siblings to foster homes to give more attention to Theresia. She was the most traumatised of them all," says Monica, her mother.
Theresia was badly affected by the terrifying journey to safety and the hardships that followed. She became anxious about the separation from her family and school friends. "I was worried about my future; at first I thought that all hope was lost," she says.
Things started to improve after Theresia was invited to attend one of Plan International's child friendly spaces. These safe spaces were set up to provide support to children displaced and affected by the conflict. At first, Theresia struggled to deal with her emotions and was worried and tense. After counseling and psychosocial support she started to develop an interest in the activities on offer.
Vocational training for crisis-affected girls
Later, she enrolled onto a vocational training course in tailoring. Upon completion, she was provided with a start-up kit which included a sewing machine, materials and sewing accessories. Similarly, Theresia says the child friendly space activities coupled with the vocational training have made a huge difference to her emotional wellbeing.
"I have regained hope and I'm more confident of a brighter future. I have learnt skills that make me feel useful. Now, I can design and sew very well and make money from it. I am so proud of myself. I can now take care of my needs and also support my mother," says Theresia with a smile.
Moreover, Theresia hopes to one day own her own tailoring workshop where she can support other vulnerable girls unable to continue school.
"Theresia is a fast learner, she is one my best apprentices. She even assists me in teaching the other apprentices," says Estella, one of the course trainers. "She is one of our most responsible adolescents in the community. Also, she now assists other adolescents at the child friendly space and in the community," adds social worker Ferdinand.
The project which supported Theresia forms part of a partnership between Plan International and the Swedish International Development Cooperation Agency (SIDA). Now in its third phase, the project runs from May 2020-April 2021. It boosts protection services and promotes access to specialist services for children, youth, women and men affected by the crisis in the North West and South West Regions.
Better days ahead
This phase of the project has directly reached more than 9,000 people, including 359 young people who have taken part in vocational training for crisis-affected girls. "Despite these achievements, many children and young people are still in need. As the crisis continues, there remains limited attention to the needs of children and young people. Consequently, there has been an increase in gender-based violence cases, unaccompanied and separated children, and limited economic opportunities, amongst other things", explains project coordinator Sylvia Anyangwa.