Discover how our child protection team helped to reunite a mother and her son after months of separation.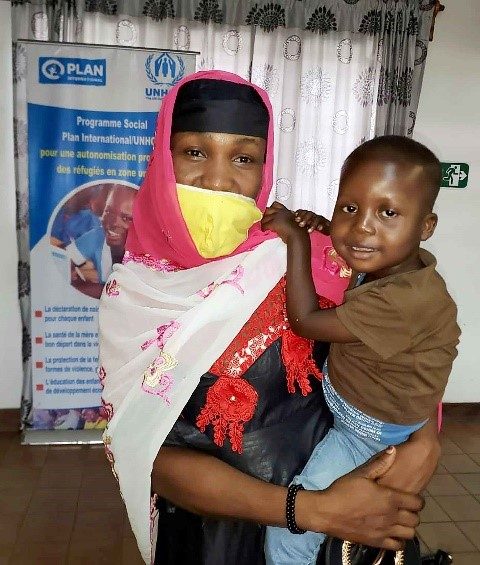 Noudjoutar had a difficult start in life. His refugee parents were unable to provide him with a nutritious diet so his growth was stunted and he had difficulties learning to walk. His parents' relationship was fractious and there were many arguments. One day in October 2020, Noudjoutar's father decided to leave the family home taking his 2-year-old son with him.
The beginning of the ordeal
Patou, 25, Noudjoutar's mother was distraught at the prospect of losing her only child. "I was desperate and helpless. I cried all the tim, and I didn't know what to do. I could not bear the thought of never seeing my little boy again," she says.
A refugee from the Central African Republic, Patou has lived in the city of Douala in Cameroon for many years. After the disappearance of her little boy, she reported him missing to Plan International's social programmes team. The team took over the case and provided Patou with psychological support and financial assistance to try to locate her son's whereabouts.
"Thanks to the guidance I received, I discovered that I had more strength than I imagined. The psychological support helped me to cope with the situation, especially as I don't have any family in Cameroon," Patou Explains.
Mother and son finally reunited
In February 2021, after months of searching and a multi-agency effort, Noudjoutar was finally found and reunited with his mother. This was made possible thanks to our work with the administrative and judicial authorities, and the psychosocial support given to Patou. This was also thanks to the commitment of project support staff, who accompanied Patou through every step.
Although back in his mother's care, Noudjoutar, now 3, was still very unwell. He was visibly malnourished and unable to stand up unaided. Also, the protection team provided his mother with financial assistance to buy nutritious food and pay for physiotherapy sessions to help him learn to walk.
Nearly a year later, Noudjoutar is fully recovered. He is not only able to walk but runs about happily and goes to school like every child his age should do.
"I was delighted to see my son again. Even though he came back to me very sick, the social programme team stepped in to support us. Today, I am excited again. After many months of care and follow-up checks, Noudjoutar has regained himself. He now runs around and has lots of energy," Patou says joyfully.
Social programme for urban refugees
Plan International's Social Programme for Urban Refugees and Asylum Seekers, funded by UNHCR, aims to protect and assist refugees and asylum seekers of all ages in Cameroon, with a focus on those living in the cities of Yaoundé and Douala. The areas covered by the programme include child protection, education, support to refugees with specific needs, individual case management and community mobilisation.
"We work with and for people who did not ask to be in vulnerable situations. Whether in child protection or education, it's often difficult for refugees to be aware of the socio-cultural realities that limit their evolution and integration into their new societies. This is a difficult task that requires a lot of time and resources to achieve. We are doing the best we can to support refugees to have good access to services for their basic needs. Unfortunately, we cannot always meet the high demand for our services given our limited resources." Josephine Medjom, the Project Manager explains.