In Mali's hunger crisis, girls are paying the highest price
21 November 2022
We are calling on donors and political leaders to act now to meet urgent humanitarian needs in Mali, and prioritise age and gender-sensitive responses, writes Omar Sabry, Policy and Advocacy Advisor.<br>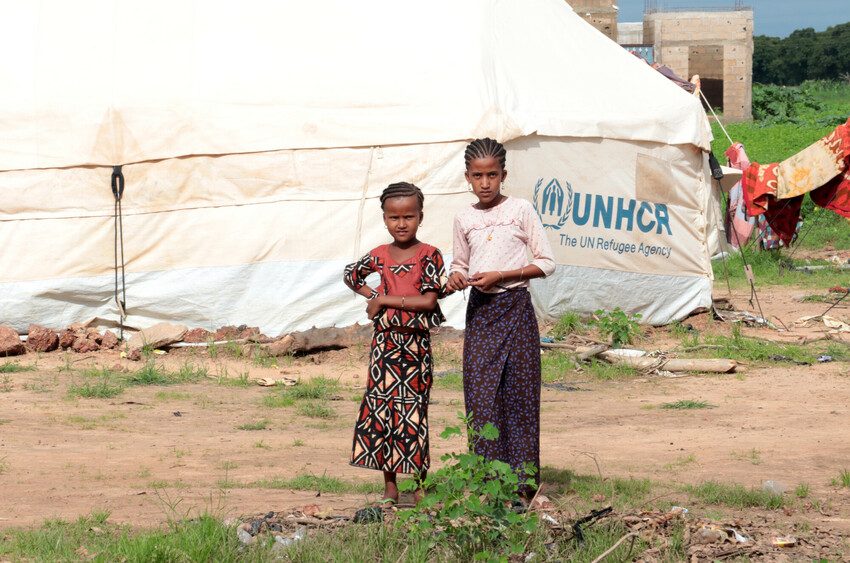 "My parents have nothing," said Fatoumata, 10, who lives in a camp for displaced people in Ségou region in south-central Mali, after fleeing conflict with her family, leaving everything behind.
Even though she still goes to school, she is always hungry, severely undermining her ability to learn. "We came here to Ségou with nothing. Our main difficulties are the lack of food and hunger. Even when we get to eat, it is never enough. We are never full."
Mali's protracted crisis, over a decade old, is being fuelled by conflict, climate and economic shocks. Humanitarian needs are skyrocketing, and girls are paying the highest price in the country's hunger crisis.
Fatoumata's story is that of at least 1.84 million Malians suffering from acute food insecurity, meaning hunger is directly affecting their lives or livelihoods.
Fatoumata is also one of at least 422,620 internally displaced people (IDPs) in Mali, a number that has almost doubled in less than two years.
Malians are fleeing their homes in the hundreds of thousands not only to seek safety from rampant violence and insecurity but also from drought and flooding. This year, at least 72,025 were affected by floods, almost seven times the number of those who were affected by floods last year.
Economic fallout of COVID-19
To make matters worse, the impact of a series of economic shocks has been crippling. From the economic fallout precipitated by the COVID-19 pandemic to (now lifted) regional sanctions to the impacts of the Ukraine conflict on heavily import-dependent Mali, thousands of Malians were catapulted into acute food insecurity, unable to access sufficient nutritious food due to a prohibitive rise in the prices of essential food items.
While hunger affects everyone, it is particularly dangerous for children under five and adolescent girls and young women who are pregnant or lactating, putting them at increased risks of miscarriage, death during childbirth, and passing on malnutrition to their children.
Throughout the last year, over 1.2 million children under 5 in Mali suffered from acute malnutrition. A quarter of them suffered from the most life-threatening form of malnutrition: severe wasting. This is a lethal condition that reduces the body of a young child into its most basic functions, like breathing, turning common illnesses into killers.
It is not just the direct impacts of hunger on the bodies and livelihoods of the most vulnerable; there are also several major knock-on impacts in times of crisis that affect girls and young women disproportionately.
Impact on girls' education
At least 2,000 schools are closed across the country, affecting about 600,000 children, with girls more likely to stay home due to additional domestic work responsibilities. This increases risks of child marriage and gender-based violence. Indeed, we are seeing a disturbing rise in gender-based violence, particularly in the most conflict-affected regions. And especially in those same regions and those with high numbers of displaced people, there is a dangerous lack of essential health services for girls and young women, including sexual and reproductive health services.
We at Plan International have stepped up our emergency response in some of the world's worst hunger hotspots, including Mali, by working with local partners to provide live-saving food and cash assistance, child protection, education and health services. Our work covers Bamako, Mopti, Ségou, Gao, Timbuktu, Sikasso, Koulikoro, and Kayes.
Humanitarian needs
But Mali's Humanitarian Response Plan (HRP) for 2022, developed jointly by the humanitarian sector through needs assessments, analysis and planning, is only 32% funded, only weeks away from the end of the year. Mali's HRP is the most underfunded in West and Central Africa, and the second-most underfunded in Africa after Mozambique.
This means it is simply not possible to reach all of those in urgent humanitarian need, such as children who are severely wasted, displaced girls who are out of school, and pregnant and lactating mothers.
This is why after over decade of crisis in Mali where humanitarian needs have far outpaced available funds, global leaders must, in partnership with national and local authorities:
Urgently deliver US $455 million in flexible funding to save the lives of 1.84 million people in Mali who are suffering from acute food insecurity;
Prioritise gender and age sensitive responses to address the gendered impacts of hunger as well as its knock-on impacts on the rights of girls to education, protection and health;
Bolster humanitarian diplomacy efforts to ensure unfettered humanitarian access, particularly in the most conflict-affected regions of the country; and
Build resilience to mitigate the impacts of future shocks by strengthening anticipatory action and bolstering support for livelihood programs.
To read more about Mali's humanitarian crisis, see our Advocacy Brief (English, French), published in November 2022.
Plan International is not responsible for the content of other sites.