26 JULY 2019
Girls Get Equal, the global campaign demanding power, freedom and representation for girls and young women, has officially launched in Uganda.
The national launch of the Girls Get Equal campaign in Uganda was attended by the Speaker of the Ugandan Parliament, Rt Hon Rebecca Alitwala Kadaga.

Girls take the lead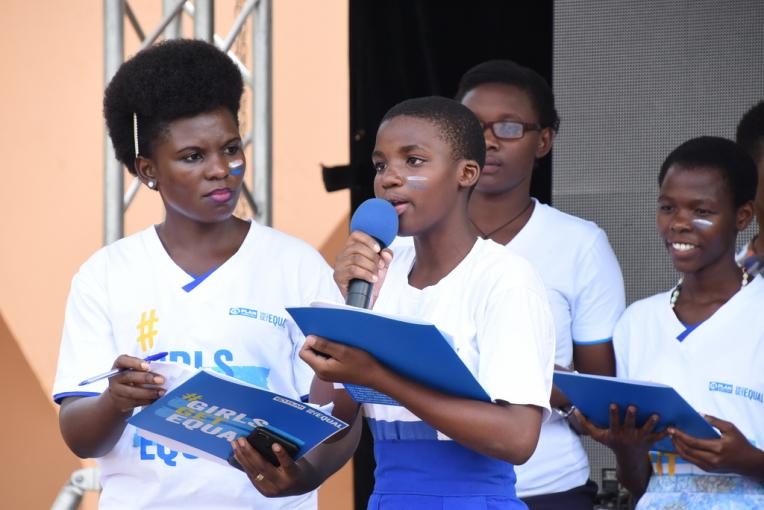 At the launch, Ugandan girls handed over a petition to the Speaker on issues affecting them and asked her to support them in addressing these issues so that girls can get equal.
The Rt Hon Kadaga pledged to support the campaign and work with other arms of government on the rights of girls and young women. "We are going to fast-track the passing of the Sexual Offences Bill 2015, subject to the amendments proposed by the various stakeholders." she told the girls.
The Speaker said the government will strengthen the national coordination mechanism for the different government ministries, departments and agencies to effectively prevent and respond to gender-based violence.

Changing perceptions globally
The global campaign which has launched in over 60 countries, aims to change the way girls are valued in society so that they no longer have to face injustice, oppression, discrimination or negative stereotypes.
The Girls Get Equal campaign also seeks to challenge the status quo of young women and girls. It offers a real opportunity to drive lasting change for girls' rights and equality, and to bring transformative change not only for girls, but contributing holistically to national development.

Support the Campaign
Plan International Uganda calls upon the public to stand up for young women and girls' equality by ensuring that:
More girls and young women can participate in decision making processes
Girls are no longer subjected to street harassment, any kind of violence or discrimination
Girls are not silenced or abused online
Society stops the gender stereotypes and attitudes that affect girls' excellence and advancement.
The Girls Get Equal campaign was launched in 8 districts of our operations including Kamuli, Tororo, Lira, Adjumani, Yumbe, Arua, Nebbi and Kampala.