19 APRIL 2017
Rwanda has made major strides over the last decade in boosting growth, reducing poverty, and tackling gender inequality. But numerous challenges remain, particularly for young women in this youthful, densely populated country in Africa's Great Lakes region.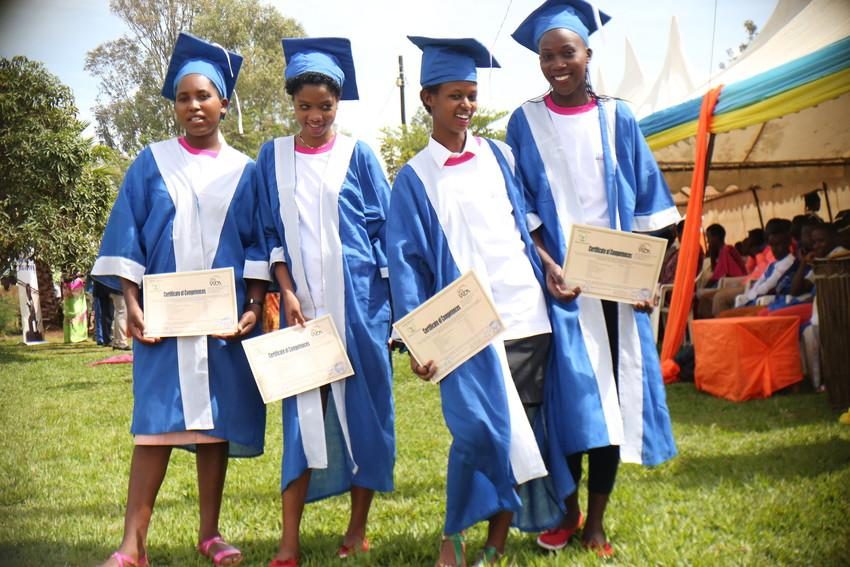 Young people face major obstacles in entering the work force. Adolescent girls face the added burdens of widespread early childbearing and gender-based violence. Young women are also less likely than their male peers to complete secondary education, limiting their opportunities and ability to work their way out of poverty.
Building Skills for Life
Through our Building Skills for Life programme, we're addressing the root causes of gender inequality to help girls stay in school and learn skills so they can follow their ambitions. This project, run in partnership with the UK Department for International Development, helps girls get a quality education and access lifelong learning opportunities.
At a recent graduation ceremony, 41 young mothers from Bugesera and Gatsibo districts graduated in cookery and hairdressing. The 4 month long courses are complemented by life skills training, financial education and entrepreneurship. Nearly half of the girls have already found work in restaurants, hotels and hair salons.
The girls have all faced the challenge of early and unwanted pregnancies which unsettled their already fragile lives. "As teen mothers, we had lost all hope and didn't think that anyone would want to help us until Plan International gave us this option to study for a new profession. Now we are confident and ready to face the future," says Umurerwa, one of the newly graduated young women.
As part of this project, we are also forming Boys 4 Change clubs in secondary schools which use a model of positive masculinity. The boys are encouraged to evaluate their schools for gender equality and take action such as creating fair systems for conducting school chores, so that both boys and girls have equal responsibility, inviting girls to participate in games usually played by boys and treating girls with respect.
Seeing results
Since the start of the Building Skills for Life programme, a total of 164 teenage mothers have received vocational, entrepreneurial and financial training giving them the opportunity to earn their own money work together and save for their future. As a result of the training, a large number of girls have formed savings groups and set up cooperatives where they work as a team to buy and sell good with the profits earnt shared between the group. 
Education, Untagged