7 JUNE 2017
In Myanmar, one of the world's most disaster-prone countries, 13 year old Su Wai Lwin is among a group of children who are taking the lead on keeping themselves and their peers safe during emergencies.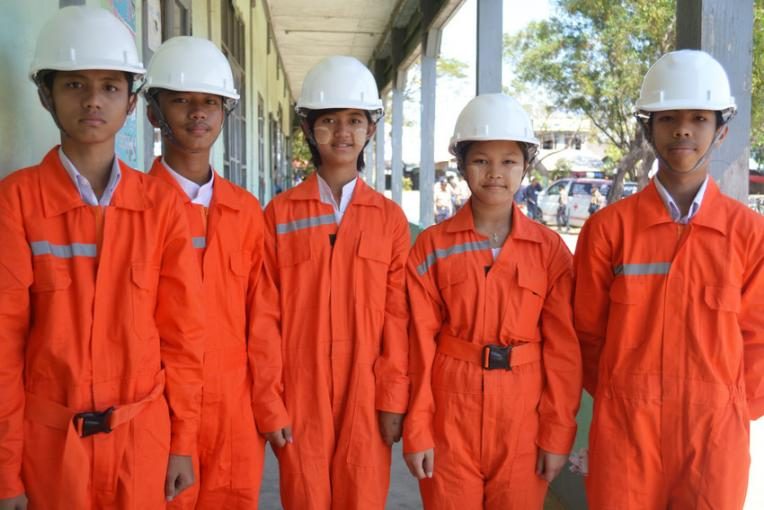 "I know that if I face a disaster I can keep myself and others safe. I feel more ready now," says 13 year old Su Wai Lwin from Yangon, Myanmar.
She is among the 5 students that make up her School Disaster Management Committee (SDMC). They have been trained to conduct search and rescue operations if a natural disaster strikes.
"I've never joined a project like this before," said Su Wai Lwin. "When I joined the SDMC I got a better understanding of how to prepare for and respond to disasters and I've been able to share my knowledge with my friends."
Emergency simulation
Her school also conducts emergency simulation exercises so all students know how to get to a safe place and help each other in case a disaster strikes.
During the exercises, the 700 students at her school evacuate the buildings with their backpacks on their heads, making their way to an open space where their teachers can safely take a roll call.
Meanwhile, the search and rescue team look for missing students, put them on a stretcher and take them to the first aid station. Other students are ready with bandages and first aid kits and load the 'injured' students into an ambulance.
"We have a responsibility to fulfil in this school and today we could put it into practice. The chance to practice our skills has been really good," Su Wai Lwin explains.
Safe schools
The project to prepare children for disasters in Yangon is being run as part of Plan International's Safe Schools programme. As this particular project is based in an urban setting, it is designed to take specific urban hazards such as traffic, pollution and falling buildings into account.
Su Wai Lwin's involvement in the search and rescue team is inspiring her future. "I'd like to be a doctor or a police officer so I can help others," she said.
Emergencies, Untagged