Plan International provides conflict-affected and internally displaced women with cash transfers so they can meet their basic needs and earn an income. In a displacement camp in Mali, 33-year-old Hamssetou has used some of her money to start a soap making business to support her family.
"During my soap production, each mould can produce 25 bars of soap which make me a profit of 1500 to 2000 CFA francs. This money allows me to pay the school fees for my children. We also have a soap sellers' cooperative and I pay my weekly membership fee every Sunday," says Hamssetou.
Mother-of-5 Hamssetou used to live a quiet life in a rural village where she made a living as a farmer. "We worked in the fields and lived in harmony with our neighbours. We had to leave when the conflict broke out," she explains.
Now living in an IDP camp in Mopti Region, life is much harder. Her husband works abroad and is able to send her some money occasionally, but it is not a regular income. One of Hamssetou's biggest concerns is finding enough food to feed her large family. The food shortages in the camp have caused price rises and have left children suffering from malnutrition.
"I was really worried and didn't know what to do. The cash from Plan International helped me buy food and clothes for the children."

Hamssetou
"Even now, I don't know if I will be able to buy food or not. I used to get a lot of help, but now it is scarce. Fortunately NGOs like Plan International are helping us a lot. We are really suffering from the lack of food," says Hamssetou.
Cash transfers support struggling families
Plan International is supporting women like Hamssetou and her children with unconditional cash transfers to enable families to buy food. "The cash from Plan International helped me buy food and clothes for the children. Before this support, I was really worried and didn't know what to do, but this has really helped me and my children."
Hamssetou set aside a portion of her cash transfer to start a soap making business so she could generate an income going forward. "To prepare the soap, I need 3 litres of palm oil, 2 litres of groundnut oil, perfume and bicarbonate. Then I boil the oil in the evening. In the morning, after the children have gone to school, I make the soap and then sell it in the afternoon. For 10,000 CFA francs of sales, I can make 2,000 CFA francs of profit."
Soap and detergents are used by every household in their daily lives in the camp, so the demand for it is high and Hamssetou has a regular customer base. "I sell the soap every day. I walk around the camp to sell it to the women I know. I use the profits from my soap sales to ensure that my children can eat and go to school."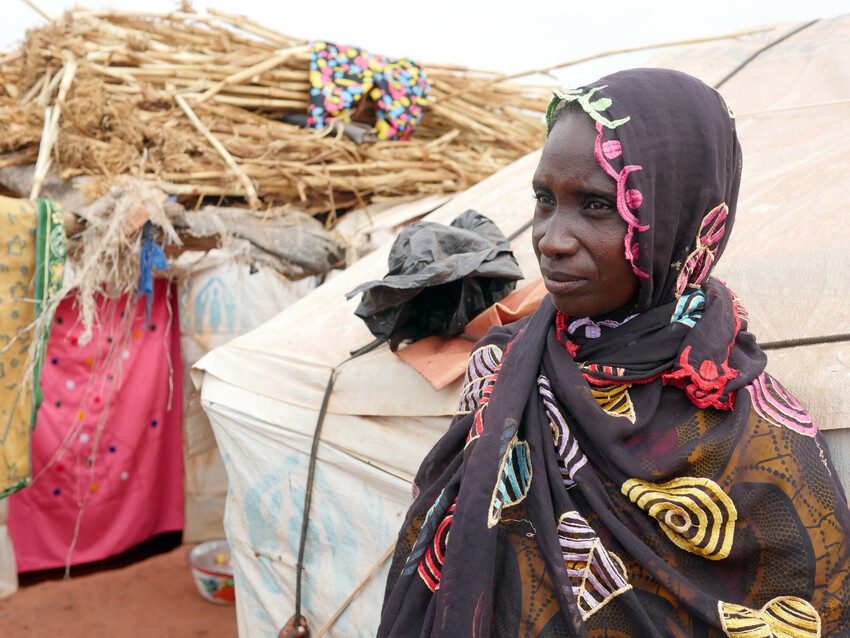 In total, 1,159 people (including 805 women) have been supported through Plan International's unconditional cash programme, helping them to buy food and start small businesses. The money is distributed in 2 instalments of 41.000 CFA francs (€60). This was the second cash transfer initiative Plan International undertook in Mopti region in 2022.
For Hamssetou, her children's education is her main priority, recognising that a good education is the way out of poverty. "What I want for the future of my children is that they study and finish their education because when you study you never lose the knowledge you have acquired."
"I have 4 boys and a girl. The girl is in grade 6, one boy is in grade 4 and the other 2 boys are in grade 3. I have enrolled my children in school because I think school is very important. Through school they can become teachers or policemen or NGO workers or even political leaders," concludes Hamssetou.