Family recovers after West Java earthquake
Zaina and Lulu are among the many children directly affected by the earthquake that struck West Java, Indonesia. Now living in an evacuation shelter, they are recovering and receiving the support they need.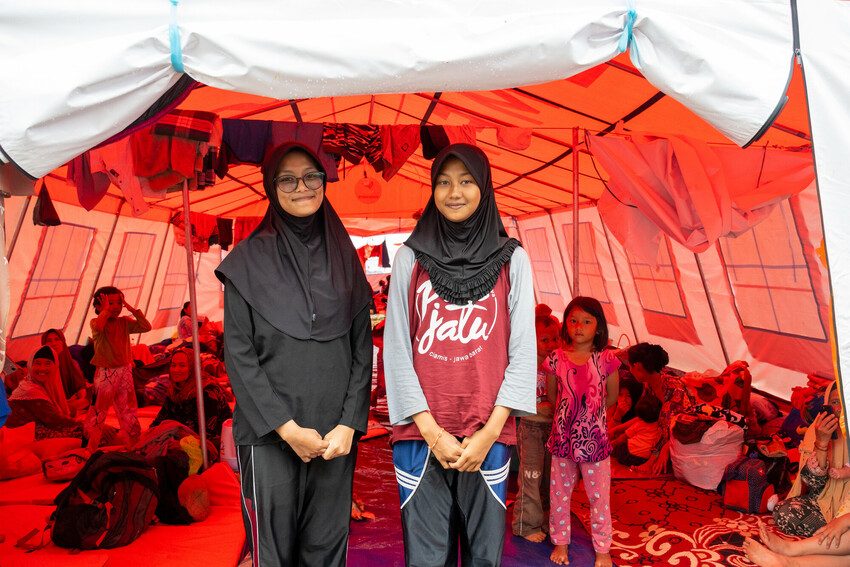 Zaina, 15, and Lulu, 13, in front of the tent they share with several other families.
On Monday afternoon, 15-year-old Zaina and her friends were studying in class at their madrasa (Islamic school). Suddenly the ground started shaking and panic swept through the room. The students immediately ran outside and not long after, Zaina and her friends watched as the building collapsed into rubble.
At the same time, Zaina's younger sister Lulu, 13, was experiencing a similarly terrifying ordeal. Like her older sister, Lulu also managed to escape from her school building before it was destroyed. After finding her younger sister outside her school, Zaina and Lula ran home to check on their family.
"We were grateful because all the members of our family were safe, but our house had totally collapsed. It's the same as what had happened to our school buildings," explains Zaina.
Earthquake devastates West Java
Zaina and Lulu are the lucky ones, many other children did not manage to escape the 5.6-magnitude earthquake that hit the Cianjur region in West Java, Indonesia at around 1:21 pm on 21 November 2022, causing buildings to collapse while school classes were underway. More than a third of the 271 reported deaths are children.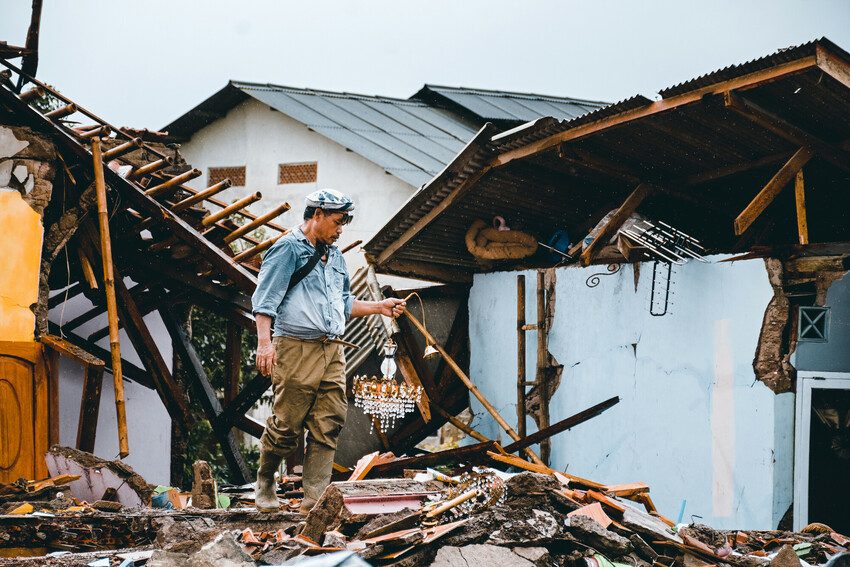 The high number of child fatalities is due to when the earthquake struck. Many children were at schools, madrasas and Islamic boarding schools. At one kindergarten school in the region, dozens of young children were killed when their class building collapsed on them.
Together with thousands of other residents who lost their homes in the quake, Zaina and Lulu are now living in a communal tent in an evacuation shelter. The tents are made of tarpaulin and are limited in number. Now there are far too few tents to accommodate the large number of families in need of shelter.
Zaina and her family are sharing their crowded tent with several other families, in total 15 people are living in a space measuring 6 by 4 metres without any ventilation. The families hope that they will be allocated their own personal tents soon which they can set up in front of their damaged houses. Most people displaced by the quake want to live close to their homes so they can protect their remaining possessions.
Although food and medical services are available at the evacuation site, Zaina says she worries about the lack of access to clean water. "To get water, we have to leave the site," she tells us.
Zaina's mother Mia, 40, says that as well as the destruction of their family home, she and her husband have also lost their livelihood. "We have been working in the market as traders, but we cannot continue as the market building was destroyed by earthquake."
Support for earthquake-hit families
Plan International is supporting families affected by the earthquake with the distribution of hygiene kits, food, and bottled water for affected children and their families. Our recovery programme will also include help for children who have lost their parents, psychosocial services, temporary learning facilities and addressing child protection needs.
Zaina and Lulu are hopeful that they will soon be able to return to school and continue their education with their friends. "But I don't know when I can go back to school, our school has collapsed in the earthquake," says Zaina.
The shock of the quake is still fresh in Zaina and Lulu's minds and they will need psychosocial support to come to terms with the terror they experienced. The loss of their school, home and death of some of their neighbours has made the girls uneasy and scared that another earthquake will occur.
"I keep thinking of the earthquake and my school building collapsing. I have many questions. When will we be able to return home? And how long will we have to live in a tent?" asks Zaina.
Emergencies, Disaster relief, Education in emergencies