Girls are challenging the stereotype that technology is 'for boys' by learning digital skills in 'classrooms of the future.'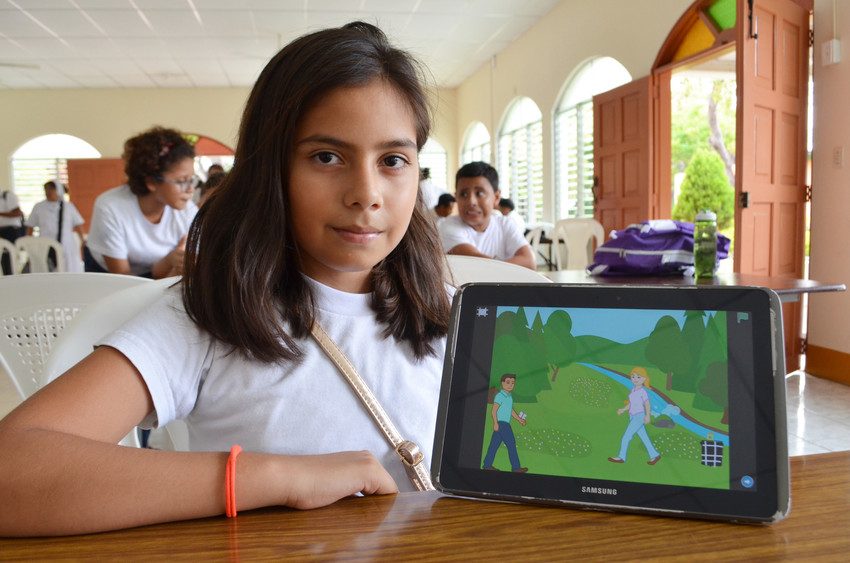 "Technology helps girls with their education both culturally and socially and encourages them to share their knowledge with others who do not have the same skills," says Samantha, 11, from Nicaragua.
In Latin America, a lack of digital skills is a key barrier that prevents girls and young women from going online and pursuing a career in technology. For instance, in Guatemala the gender gap in the use of the internet is 23%.*
In addition, stereotypes around technology being 'for boys' and fear of being discriminated against stop girls from using digital tools.

Digital skills for girls
That's why we've partnered with Samsung to support school children to learn digital skills in 7 countries across the region. The Smart Schools project targets public schools that lack the resources to incorporate technology into their curricula so children who would otherwise not be able to, can learn digital skills.
These skills will help the girls actively participate in their increasingly digital societies and give them the opportunities to pursue careers in technology.
Girls are taught in 'classrooms of the future' where technology is both the focus of the lessons and helps the teaching of other subjects. "When I came to this classroom for the first time, I saw tablets and I was impressed," says Daniela, 11, from Ecuador. "Before there were notepads and now, we have computers and tablets."

Challenging stereotypes
So far, over 5,300 girls from Guatemala, El Salvador, Honduras, Nicaragua, Panama, Dominican Republic and Ecuador have learned new skills through the project.
Eleven-year-old Samantha from Nicaragua has used the digital skills she picked up at school to enter and win national contests. Most recently, she created an app to raise awareness of environmental conservation.
"I like to use technology to raise awareness of social problems such as the pollution of the environment. If we do not act now, one day we won't have our planet," she says.

Teachers inspire the next generation
Teacher training is another aspect of Smart Schools. Nearly 280 teachers, most of whom are female, have been trained to incorporate technology into their lessons. Not only does this improve the children's lessons, but by having female teachers confidently using technology, it also shows the students that technology is not just for men and provides role models for the girls in the classes.
Over 250 of the teachers who have been trained as part of the project have created a regional network so they can support each other and share things they have learned.
Alieska, a teacher at a primary school in Nicaragua, has adapted her teaching methods since receiving training. "Subjects like history can be quite boring," she says. "But with the apps they have more interaction. It helps them to be more in touch with their lesson content.
"Technology has changed all of us. We all want to be able to learn something new every day."

Keeping children in school
In addition to the new skills learned by the children, the schools involved in the project have reported that the attendance of students has increased, and dropout rates have declined since they incorporated technology into their lessons.
Following its success, the Smart Schools project has been selected as a finalist in the skills category for the 2019 Equals in Tech awards, * the world's largest event celebrating those working to close the gender digital divide.
*Plan International is not responsible for content on external websites.