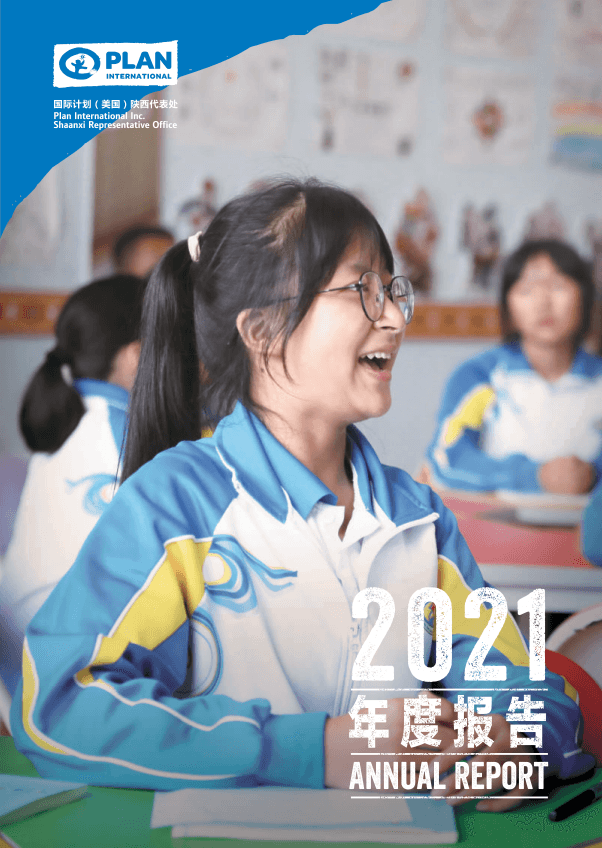 This report sets out Plan International's progress in China towards our purpose and values between July 2020 and June 2021.
In 2021, we celebrated the 84th anniversary of Plan International, and our 26th year in China. Since our creation, we have striven for a just world that advances children's rights and equality for girls. In the past 26 years, Plan International has witnessed rapid socio-economic development in China and is honored to be a part of this process by contributing to the protection and development of children and youth, particularly girls and young women, across rural China.
Our programme activities in the fields of early childhood development, inclusive quality education, child protection, youth economic empowerment, sponsorship communications, civil society organisation support and fighting against COVID-19 have benefitted nearly 400,000 people, including nearly 140,000 girls and 68,000 young women. We will also be actively sharing the best practices in China with the rest of the world.
Concurrently, we have adjusted our programme strategies and methods in China, to compliment newly promulgated policies such as the Outline of the Fourteenth Five-Year Development Plan for the National Economic and Social Development of the People's Republic of China, Outline for Women's Development in China (2021-2030), Outline for Children's Development in China (2021-2030), Personal Information Protection Law of the People's Republic of China and other policies to better meet the needs of the development of women and children in China.
Looking ahead to 2022, we will continue to work with our partners to find innovative answers to particular issues concerning the development and protection of Chinese children and youth, particularly girls and young women. Our work will be in accordance with relevant Chinese policies, laws and regulations and under the guidance of the registration administration organ and the supervising unit. We will also promote the development of social organizations using our practical experience.