INCLUDING CHILDREN WITH DISABILITIES IN OUR EMERGENCY RESPONSE
In Burkina Faso, more than one million children have been internally displaced by an upsurge in violence in the country, and their needs are complex and wide ranging. Children with disabilities are often at higher risk of violence, discrimination and abuse, and face additional barriers to access basic services.
6-year-old Rahim can neither speak nor walk. He and his parents, brother and sister were forced to flee their village in the Centre-North region of Burkina Faso due to insecurity and now live in an IDP camp in Bam Province.
"We came here after an attack that killed people where we lived. That is how we found refuge here," explains his father Zakaria, 34. "We came on a cart. We first went to Boulouma, thinking we could stay there, but we had to continue our way here."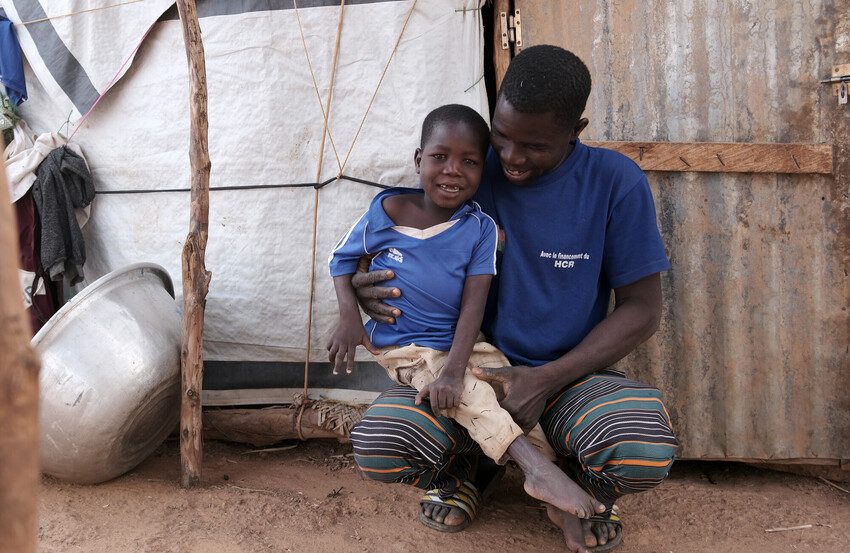 When Rahim was born his mother Assetou says that he appeared to be like any other newborn baby. But over time she realised that he was not developing at the same rate as other children his age.
"It took a long time for him to sit up by himself. He also had to be fed for a long time but now he can eat by himself. Rahim understands what he is told but he cannot speak. He is able to take something and bring it to you when you ask him for an object for example, and he is also able to point to what he wants," shares Assetou.
In Burkina Faso, traditional beliefs and lack of information mean that children with disabilities are often discriminated against and seen as a source of shame by their families which prevents them from being properly integrated into society. In the camp where they live, Rahim spent most of his time hidden away inside his tent.
Plan International works in the displacement camp where the family live, providing protection, education, hygiene and financial support. Our child-friendly spaces, which are open to both internally displaced children and those from host communities, facilitate the inclusion of the most vulnerable children by ensuring our play activities are tailored to everyone's needs.
We also identify children who are not attending the centre and encourage their parents to let them take part in the activities on offer.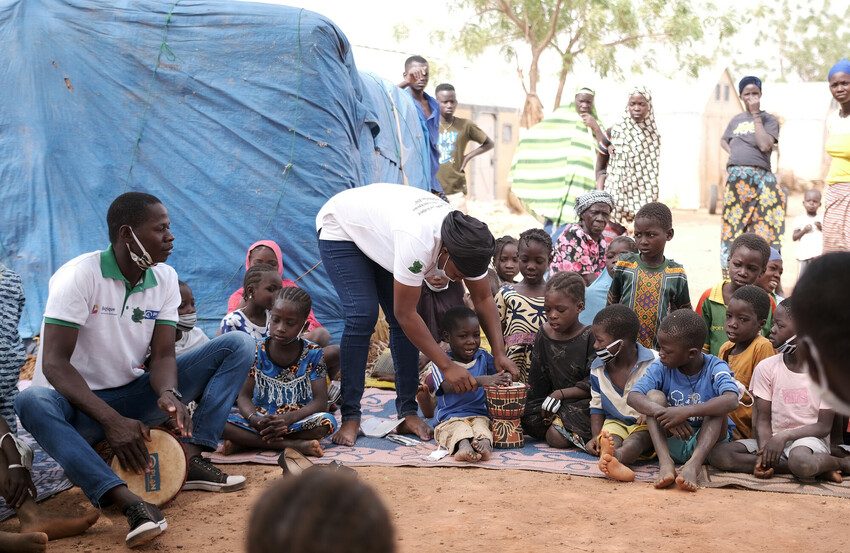 "During the registrations, we went to meet the children. Many parents and children were there. One of our colleagues saw Rahim. He was quite isolated, hidden behind a tent. We tried to understand the situation. For the parents, they felt ashamed of Rahim, so did everything they could to hide him," explains Adèle Sawadogo-Zoungrana, who works at the child-friendly space.
"We referred Rahim to our psychologist who went to talk with the parents. And I can say that it had an effect because afterwards, when we came to do the activities with the children, Rahim's mother brought her son. Our work is first to organise the children, then we do awareness sessions on certain themes and at the end of the sessions we play games with the children."
Rahim is now a regular attendee at the child-friendly space and his parents say they have noticed how much he enjoys the activities which are helping improve his development.
"Things are better for Rahim because we notice that he is more fulfilled. When we were in the village, we didn't even want him to go out because he was so afraid of the outside world. Now, he is so well integrated among the children that he is not afraid anymore and he is having fun," says Rahim's mother Assetou.
The staff at the child friendly space spend a lot of time with Rahim, helping him to feel safe and secure at the centre. "You can see that we can't ask Rahim to play football, so while the other children are playing football, there are different activities that Rahim likes and that we can do with him," explains Adèle.
"We must also recognise that children living with a disability need tenderness, attention, to be loved, and to know that we understand their situation. So, we have a particular approach for children with disabilities like Rahim."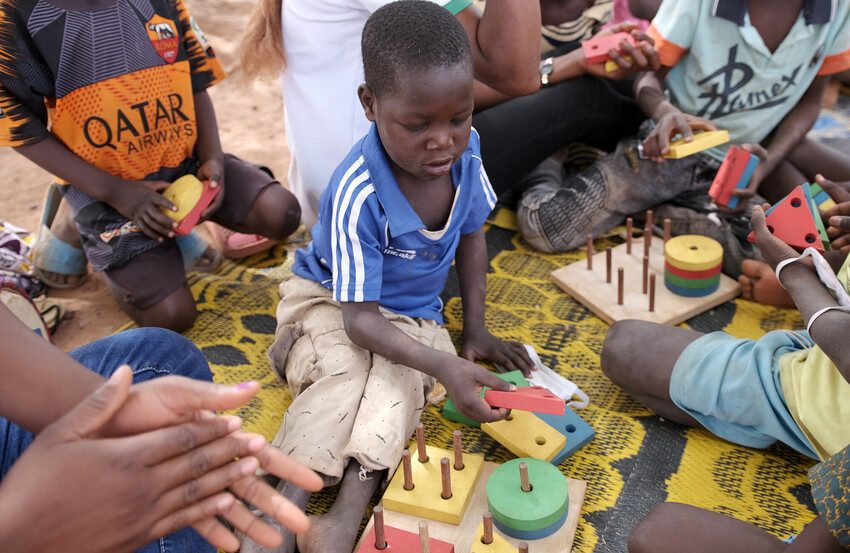 Although Rahim's development and inclusion into his society has been successful, there are still things that his parents would like for him. "He envies other children who have toys, food or anything else in hand. We lack adequate housing, clothes, food and toys for Rahim. This is what we need and what we want for him," says his father Zakaria.
"We educate Rahim with a lot of affection because he needs it more than the other children. If you take care of a child with a disability, it is like taking care of three abled bodied children. We have to give him enough love so that he can feel this love and forget his disability," concludes Zakaria.