10 MAY 2021
Girls and young women have named education as the area of their lives most affected by COVID-19 in a study carried out in 14 countries.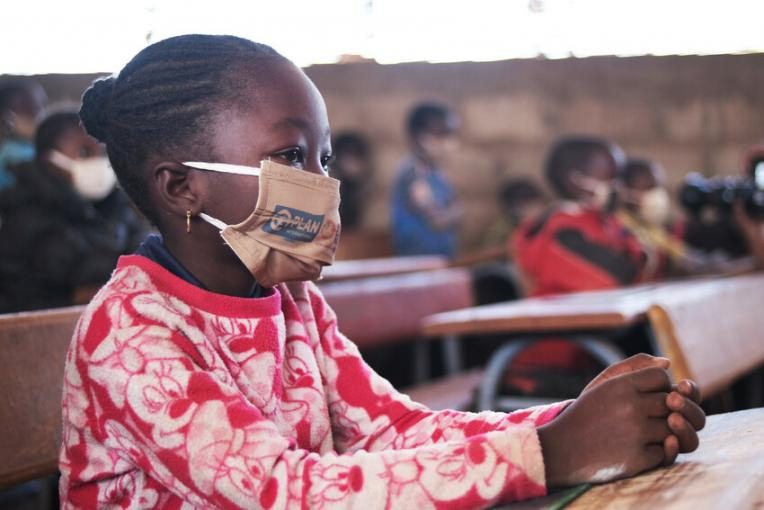 Governments should address financial barriers to girls attending school to limit the damage COVID-19 has caused to their education and future prospects.
The measures, proposed by Plan International, include food vouchers, school meals and cash transfers, to incentivise girls to return to school by alleviating burden on family incomes.
It comes as a study, carried out in 14 countries, finds that girls and young women around the world see education as the area of their life which has been most profoundly affected by the COVID-19 pandemic.
Difficulties learning remotely
In a series of in-depth interviews, limited access to technology, insufficient support from schools and colleges and physical space to study at home were all named as difficulties they have faced while trying to learn remotely.
Loneliness and domestic responsibilities have also interfered with girls' ability to keep up with distance learning while schools and colleges have been closed, and to concentrate and focus when studying at home.
In the study, 'Halting Lives 2 – In Their Own Voice', students also cited a lack of money for data, mobile phones and other costs related to online learning, and not having anyone to help explain lessons or concepts, as frequent barriers to learning throughout the pandemic.
Emily, 17, from Ecuador, said "The most difficult thing is the lack of internet, I used to use the neighbour's internet, but I don't know what happened and she cut off the internet even when my mother was helping her to pay the cost."
Many girls may never return to school
A survey carried out by Plan International as part of the ongoing study last year found that 19% of girls worldwide believe that COVID-19 will force them to temporarily put their education on hold, while 7% fear they will have to drop out of school entirely.
At the height of the first wave of the pandemic last year, 1.5 billion pupils were affected by school closures, which were in place in 194 countries across nearly all of Europe, Africa, Latin America and Asia .
Jacqui Gallinetti, Director of Monitoring, Evaluation, Research and Learning for Plan International, said "COVID-19 has changed all of our lives profoundly over the last year. But its impact does not fall equally, and the pandemic has brought pre-existing inequalities sharply into focus, whether between rich and poor, young and old, male and female."
"The future of girls and young women in many countries is very much in jeopardy and government policies must acknowledge this as we emerge from the pandemic and adapt to a new normal, listening to the concerns they have raised. Otherwise, we risk a real setback to gender equality."
The study also found that the considerable disruption to girls' and young women's education over the last year, combined with fear of the virus itself and having to adapt to lockdown measures, has taken a toll on their mental health and many of the research participants struggled with stress and anxiety.
In their own words: the secondary impacts of COVID-19
Michaela, 17, from the United States, said "The way that everything's structured is really hard and difficult. It's like I think they're trying to accommodate us, but they're not really.
"I feel like they're giving a lot more work than they used to when we were at school. Because they think that we have more time at home, which is not the case. A lot of my friends have siblings to take care of and all that stuff. We get a lot more work and we have a lot more responsibilities and it's really overwhelming."
Xiluva, 17, from Mozambique said "I hope that we may return to classes; that there is no increase in cases of early marriages during the pandemic, because I think that during this period some girls will be subjected to early marriages, others will be pregnant."
"Because the girls are at home doing nothing, some family members do not accept that the girl does not contribute to food. They force the girl to go out to look for food; for parents, having a girl at home is a burden on their backs and to get rid of the weight they hand over their daughters to a man."

Governments must fund and enable safe return to school for all pupils
Plan International is urging governments worldwide to fund and enable a safe return to school for all pupils, recognising that girls are at greater risk than boys of dropping out permanently.
The organisation is also calling for better training for both teachers and students in the use of technology, to improve the quality of remote learning in countries where schools remain closed and so that education is more resilient in the event of future crises.
This includes planning for future closures by identifying pupils who are most in need of support and investing in high-tech and low tech methods. These include radio, TV, and online learning, as well as distributing school kits with lesson plans, stationary and pens.