Plan International briefs the UN Security Council on girls affected by armed conflict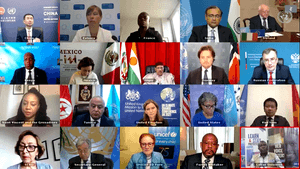 On 28 June 2021, Plan International briefed the UN Security Council at their annual Open Debate on Children and Armed Conflict.
Laban Onisimus, Education Team Lead with Plan International Nigeria was chosen as this year's Civil Society Briefer. Mr Onisimus addressed the Security Council on the specific situation of girls affected by armed conflict in Northern Nigeria and the Lake Chad Basin region, how girls are impacted by the 6 grave violations against children in conflict, and our recommendations to the Security Council for what should be done. 
The President of Estonia Kersti Kaljulaid chaired this high-level Security Council meeting. Mr. Onisimus from Plan International was joined by fellow briefers:
UN Secretary-General António Guterres
Executive Director of UNICEF Henrietta Fore
Forest Whitaker, Advocate for Children Affected by War with the Office of the Special Representative of the UN Secretary-General for Children and Armed Conflict and UNESCO Goodwill Ambassador for Peace and Reconciliation.
The President of Ireland Michael Higgins and the President of Niger Mohamed Bazoum also represented their countries on the Security Council at this meeting along with government ministers and permanent representatives to the UN.
For more, download Plan International's full remarks to the Security Council.
Plan International's full remarks to the security Council
Emergencies, Child protection in emergencies, Gender-based violence