Empowering education in conflict: reflections and recommendations
9 November 2023
On the second anniversary of the United Nations Security Council Resolution 2601 (2021) on Protecting Education in Conflict, Emilia Sorrentino, Plan International Global Lead on Education in Emergencies, spoke on what is needed on the ground for humanitarian organisations and other actors to be able to better protect children's right to education in conflict. Emilia also highlighted the targeting of girls' education, the challenges they face in conflict and shared our recommendations to improve their situation, a focus of Plan International's speech to the UN Security Council in June 2021.

Read her speech below and watch a video of her remarks.
—
Plan International has been actively engaged in advancing children's education in conflict and emergency contexts, including the advocacy and implementation of the Safe Schools Declaration across West and Central Africa since 2016. This commitment extends to numerous other nations where our organisation is actively involved. As of June 2023, the Regional Education working group has reported that 13,263 schools are now closed in West and Central Africa because of insecurity. That data includes the countries of the Central Sahel, the countries composing the Lake Chad Basin and the Central African Republic. These are dire numbers.
When schools are closed, destroyed, or used by armed groups, girls are more likely than boys to never return to school. Keeping girls out of school can lead to several consequences.
Plan International briefed the UN Security Council at their annual Children and Armed Conflict Debate in June 2021 on the lived realities of girls in conflict with a focus on girls in Northeast Nigeria. We were pleased to see the passage of Security Council Resolution 2601 a few months later in October 2021. Resolution 2601 represented a pivotal milestone, as it stands as a ground-breaking initiative singularly focused on the safeguarding of education in conflict. The resolution accentuates the profound significance of education as a linchpin for fostering and maintaining peace and security. It also draws attention on the alarming escalation of assaults on educational institutions, with a particular emphasis on the intentional victimisation of girls and the profound disruption of their educational processes.
The remarkable fact that 99 nations lent their support to this resolution underscores the truly worldwide commitment to this momentous cause. Nevertheless, the practical challenges in the field necessitate further action and diligent efforts.
Firstly, attacks on girls and women and their education, often take the form of sexual violence.  During my first mission to the Borno State in Nigeria in 2017, I witnessed the impact on girls of attacks on schools first hand. During that time, the Education working group reported that the non-state armed group Boko Haram abducted at least 213 girls from school and 600 teachers were killed. Abducted girls who were freed or managed to escape from Boko Haram were stigmatised on their return to the community because they were pregnant or already with child.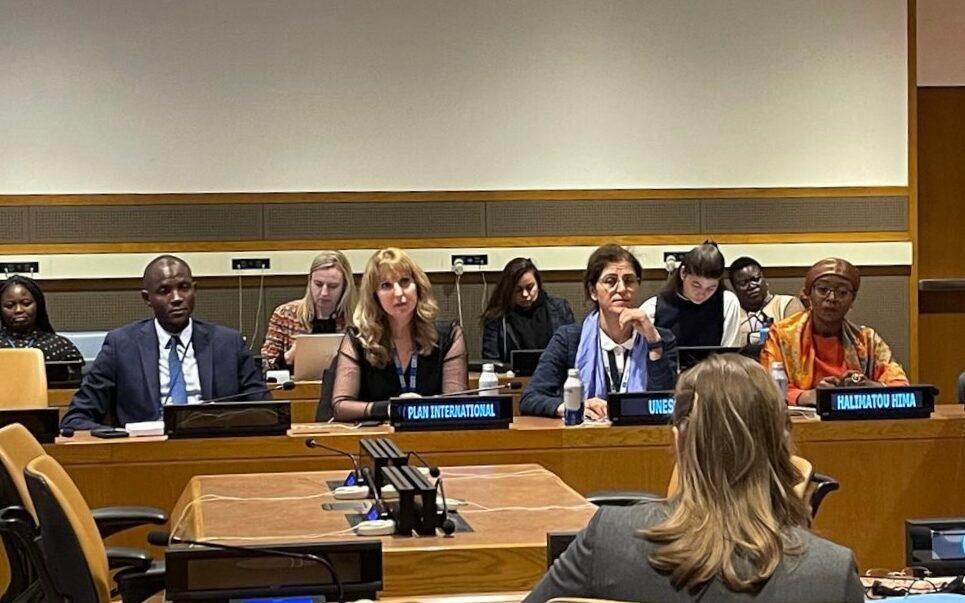 Secondly, attacks on education can be devastating. In 2021 at Plan International we listened to adolescent girls and boys in the North and South West Regions of Cameroon where conflict undermined their security at all levels and threatened their education, their lives, and their health. Children reported being afraid of going to school and health centres due to the military presence, they feared being recruited by armed groups, and adolescent girls feared sexual violence, including rape. Adolescent girls reported: "Rape due to the crisis where someone points a gun at your head and does whatever he likes."
I returned to Cameroon this past September, unfortunately access to education in these regions remains a huge challenge. Back in 2021, when the girls were asked what they want, many responded with "security, peace, and ceasefire…." More than 2 years later, the conflict rages on with no ceasefire and no visible peace process. We therefore call on United Nations Member States to support genuine efforts for a peaceful solution to the Anglophone Region crisis in Cameroon and commit to inclusive peacebuilding initiatives at all levels, that include the representation and active participation of children, adolescent girls and young women.
As a practitioner, I see also that in many situations worldwide where children's education in conflict is threatened, what is also really needed is more action on the ground to support community education stakeholders including teachers and learners who are directly impacted by attacks on schools and occupation by military forces of schools and education facilities.
Plan International has been supporting school management committees, parent teacher associations (PTAs), and children's and youth clubs to develop and implement school safety plans to prevent and address violence in school settings, including gender responsive measures to violations perpetrated by armed forces deployed to schools. Furthermore, we have been working with the Ministry of Education in Nigeria and in Cameroon to develop and scale up certified alternative education programmes that allow out of school children and adolescents to return to education.
We call on Governments to commit themselves more to implementing the Safe Schools Declaration by planning and funding it locally and to take all necessary measures to address barriers to education for out of school adolescent girls and boys, in particular adolescent mothers and pregnant girls.
Although many African countries have adopted laws and policies that relate to girls' education, many still lack the specific frameworks that allow for pregnant students and adolescent mothers to stay in school or continue their education free from discriminatory barriers. The political commitments must translate into practice on the ground and strengthen the humanitarian-development-peace approach.
Monitoring and reporting of attacks on education must include incidents of sexual violence and specific threats to female students and teachers. More support and funding is needed to ensure that those mechanisms are established in countries where the CAAC Monitoring and Reporting Mechanism on grave violations is not available, as well as to better support existing MRMs with sufficient resources.
We must immediately address the specific targeting of girls in conflict and the use of girls as a weapon of war. Girls associated with armed forces and armed groups have unique experiences, face specific risks, and must be included in the design of gender and age-sensitive programmes and policy. Girls and women who have experienced sexual violence, abductions, or recruitment and use by armed forces and armed groups require targeted interventions to support their reintegration into society. They also deserve justice by holding perpetrators accountable for their actions.
The Security Council, Member States, and the UN must do better in conflict prevention. Conflicts today that could have been prevented or cut short are lasting for years. We urge you to uphold your commitment to mainstream child protection in conflict prevention, conflict, and post-conflict situations with the aim of sustaining peace and preventing conflict.
Finally, we echo worldwide calls for an immediate humanitarian ceasefire in Gaza, and for all parties to conflict to respect International Humanitarian Law and end attacks against civilians and civilian infrastructure, including schools, hospitals, and refugee camps. The suffering of children and of civilians must end now.
Education, Emergencies, Child protection in emergencies, Education in emergencies