A Return to Business-as-Usual at the UN General Assembly?
24 November 2021
For the first time since the beginning of the COVID-19 pandemic, world leaders gathered in New York for the annual High-Level Week to mark the opening of the 76th Session of the UN General Assembly. The corridors of the building were once again filled with diplomats, UN staff and journalists going about their daily business. It was, for all intents and purposes, a momentous and poignant moment representing a bright light on the path to a return to normalcy.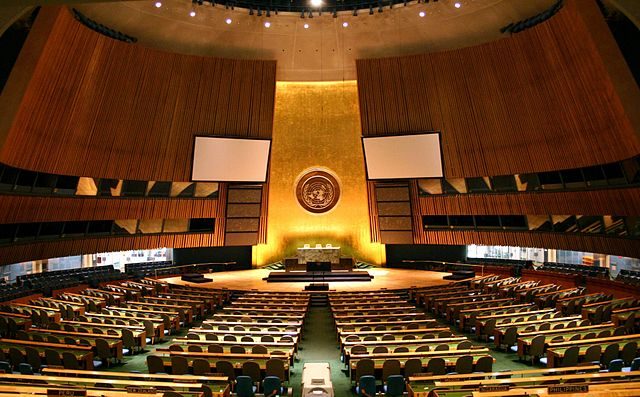 Photo Credit: Patrick Gruban
And yet amidst the excitement, one key constituent was missing. For 18 long months, civil society has been frozen out of in-person meetings and events at UN Headquarters. What should have been an opportunity to celebrate a return to in-person advocacy in the halls of the UN Headquarters, instead transformed into a missed opportunity for UN Member States and civil society alike.
UN Secretary-General Antonio Guterres refers often to the importance of civil society to the UN. Member States that make up the UN rely on civil society expertise, particularly at the General Assembly, to augment and shape their negotiation stances, talking points and overall input to the UN's vast portfolio of work. Without civil society, the work of the UN suffers.
For Plan International, this was felt keenly during the work of the General Assembly's Third Committee, which addresses a multiplicity of questions related to social, humanitarian and human rights issues, and negotiates and adopts thematic or country-specific resolutions on these matters.
2021 was an important year for the Third Committee; its bi-annual resolutions on the Rights of the Child and the Girl Child were due to appear on the Committee's agenda once again. Against the backdrop of COVID-19 and the ongoing climate crisis, and the resulting severe impacts on children's rights and gender equality, this was an opportunity to make strong commitments and include new language to advance children's rights.
At the UN, Plan International has documented that girls' rights, and in particular the rights of adolescent girls, all too often fall through the cracks in the array of international policies and laws adopted relating to women and children, including in the Third Committee. To change this, Plan International draws on its significant expertise and experience to conduct advocacy at key moments to ensure that States are poised to prioritise girls and young women during the Third Committee negotiations.
This year however, progress was curtailed due to myriad procedural and substantive issues, including a virtual negotiating space, restrictions on access to negotiations, and general bottlenecks in information flow. These issues combined with a perceived lack of political urgency to secure strong progression and protect against rollback – perhaps yet another COVID-19 fallout.
This was a challenging context in which to advocate for inclusive texts that recognise the specific needs and experiences of young women and girls and their intersectional identities, and the disproportionate burden and discrimination they face in accessing their rights.
And indeed, with both the Rights of the Child and Girl Child resolutions now adopted, we can see that there are significant gaps when it comes to advancing the rights of girls. Key areas including education; access to sexual and reproductive health services; child, early and forced marriage and other harmful practices; must be strengthened to be the bold gender-transformative texts for which we hold out hope each year.
Nevertheless, the work continues. COVID-19, climate change and other rights, development and humanitarian issues will continue to adversely affect children's rights in the years to come. The UN is the critical forum in which these impacts can be understood; Member States can work together to increase their ability to address some of today's most significant challenges; and children's rights can be upheld.
For these reasons, if Member States are to make good on their pledge to leave no one behind, they must urgently recognise the importance of age- gender and diversity disaggregation in agreed texts at the UN and systematically incorporate civil society input and expertise on these matters.
Next year cannot be another missed opportunity to advance children's rights and gender equality. Plan International will continue to work to make girls' rights central to the work of UN General Assembly, advocating to secure commitments and strong gender-transformative outcomes for girls and young women, in all their diversity.
Interested in learning more about Plan International's work at the UN in New York and Geneva? Follow us on Twitter at @PlanNY_UN and @PlanUNGeneva
Youth empowerment, girls' leadership