Young children learn and develop through play
Refugee children are playing, learning and overcoming past experiences in early childhood development centres supported by Plan International Uganda.
Play is a natural way for children to learn and develop. It sparks a love for learning that stays with children for a lifetime and is one of the most critical ways to help children build essential skills and resilience, especially for refugee children who have been impacted by traumatic events. Plan international Uganda supports children's early learning through play in both refugee and development settings.
An early childhood development centre in a refugee settlement in Yumbe district supports 406 children between the ages of 3 and 12. Established in 2016 by Plan International Uganda in partnership with LEGO Foundation, the centre is supporting children to learn through play, an approach that is enjoyable, less stressful, participatory and improves children's well-being and growth.
Esther Waiya, Lead Caregiver says that before the centre was established, many children were not taking part in early learning and development activities because the centres were not available in the community. "Many children are now well prepared for primary education. Even the parents now know the role of playing with their children is paramount," says Esther.
Teachers use local available materials as teaching aids
According to Esther, 6 caregivers at the centre have undergone professional training on the learning through play model and they are resourceful when sourcing teaching materials.
"The teachers collect old bottles, boxes, sacks of old pieces of cloth and they use them to make play materials," she says. "Parents too bring materials like leaves, stones, sand, banana fibres among others and help with the making of skipping ropes, fibre balls, dolls, model cups, plates, model animals and birds. All these are made with the help of the children."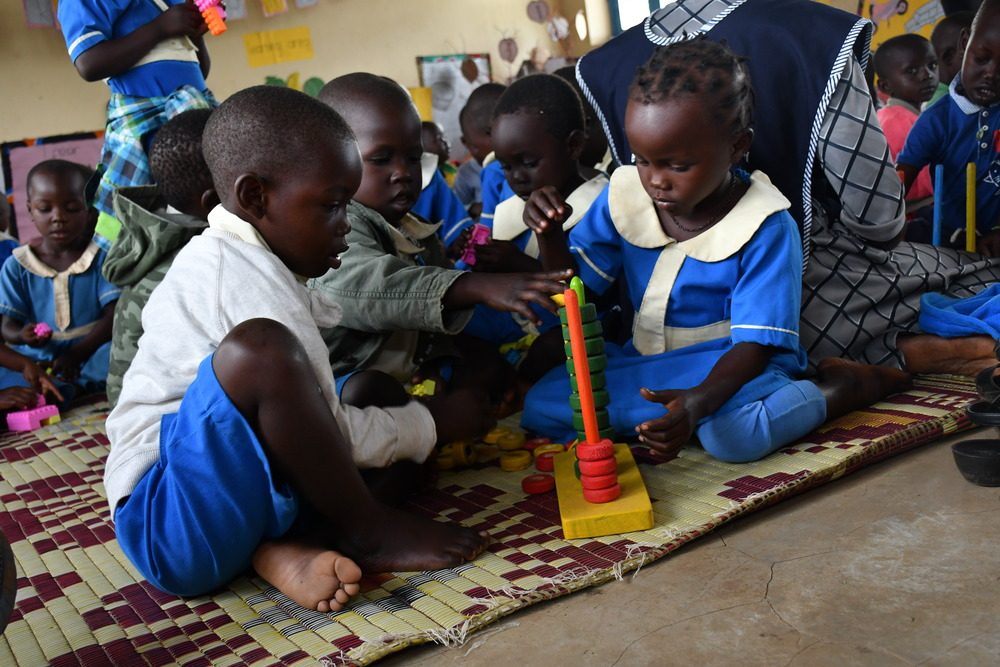 Beatrice Chandiru, Lead Caregiver at another early childhood development centre in the same settlement, which has an enrolment of 500 boys and 402 girls, says since many of the children are refugees, they have challenges including psychosocial issues. "Playing at school rehabilitates them. It helps them to associate with others, but also to refresh their minds from past effects of the war in their home country."
Plan International Uganda supports the centres by setting up outdoor playgrounds including sports equipment and swings as well as providing teaching materials, training caregivers and constructing structures.
About the PlayMatters project
PlayMatters is a 5-year project being implemented by a consortium led by the International Rescue Committee including Plan International, War Child Holland, Innovations for Poverty Action and the Behavioural Insights Team and Ministry of education and sports in partnership with the LEGO Foundation.
The project aims to improve holistic learning and well-being outcomes for over 800,000 children from refugee and host communities in pre-primary and primary school children aged between 3 and 12 in Uganda, Tanzania and Ethiopia.
In Uganda, Play Matters is being implemented in 10 local governments (i.e. Kyegegwa, Isingiro, Kikuube, Lamwo, Arua, Madi Okollo, Terego, Obongi, Yumbe, and Adjumani) hosting refugee settlements and their respective host communities.
Early childhood development, Education, Emergencies, Early learning, Education in emergencies