Promoting the Self-Development, Access and Participation of Persons With Disabilities
This policy brief looks into issues faced by persons with disability and echoes the recommendations from the grassroots to improve existing policies and their implementation.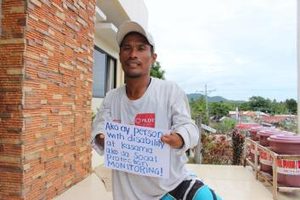 The Philippines has enacted a number of laws to ensure the self-development, self-reliance and integration of persons with disabilities (PWDs) into mainstream society.
While these policies are already in place, several gaps have been observed in relation to their implementation.
PWDs from the provinces of Northern Samar, Eastern Samar, Samar and Masbate identified 5 main issues concerning the sector during the monitoring activity:
The unavailability of discount privileges
Insufficient livelihood support
Weak implementation of the Accessibility Law
Inadequate health support and services
The inability of the sector to organise and form groups.
Particular attention should be given to the last one because it opens the floodgates for other issues to arise, including the lack of representation and participation in the governance process and in the creation of policies concerning the sector.
Protection from violence, Skills and work, Children with disabilities, Livelihoods