The Nepalese youth dispelling misinformation about the COVID-19 vaccine
Samjhana, 19, is supporting her community through the COVID-19 pandemic by volunteering for a Plan International-run response project.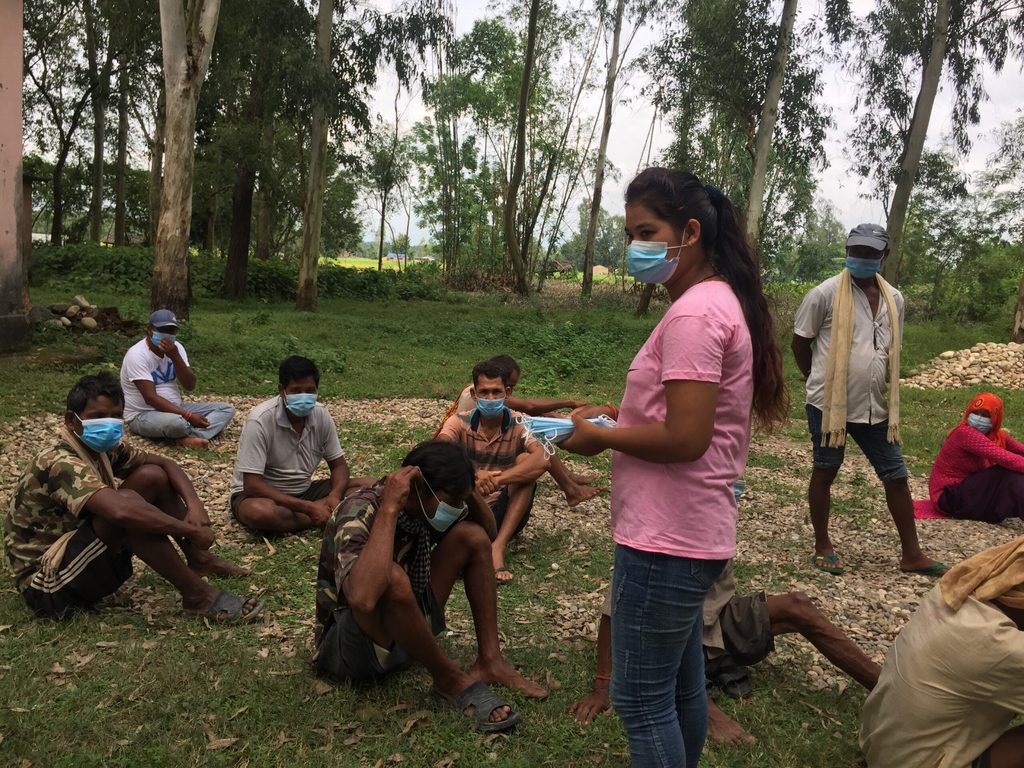 "I thought we were all going to die", says 19-year-old Samjhana from Bardiya district in the western region of Nepal. "During the first wave of COVID-19, I was worried and anxious. We were not allowed to go outside due to the strict prohibitive orders."
From a farming family of 5, Samjhana found the long restrictive lockdown hard to cope with. "It was quite difficult for me to stay at home during the lockdown. I have never been confined in one place before," explains Samjhana who is currently studying for her bachelor's degree.
Lockdowns affect education
"My education was affected during the lockdown. I was very new to the online world. When my learning moved online, my life changed drastically," shares Samjhana. "I live in a remote part of my village where there is no proper internet access. My studies depended on the availability of mobile data and I often missed my online classes due to the regular power cuts at my home."
With limited internet access, Samjhana started drifting away from her studies and began spending more time helping her parents with the household chores. Realising that she had to find a way to refocus her attention, she made a concerted effort to read sections of her course books everyday instead.
"Whenever there is internet access, my mind diverted to scrolling through social media. I created social media accounts as everyone was into it," she explains. "Since I searched a lot about coronavirus, my news feeds were filled with information and news about it. I learnt about the COVID-19 vaccine which is being rolled out soon in Nepal. I was hoping it would start soon in my village too."
Vaccine misinformation
Along with the useful and informative information about COVID-19, Samjhana was also bombarded with false and fake news about COVID-19, particularly in relation to the vaccine. When the vaccination programme started, senior citizens were called to get their vaccines first.
"I heard that only a few senior citizens were able to be vaccinated. This was due to the fake news going around on social media and online news portals. Suddenly everyone was an expert and showing off their expertise," says Samjhana.
"I didn't know who to trust. Everybody was influenced by irrelevant data and information. Even I believed most of the stories floating around and discussed them with my friends and family. The bad rumours about the vaccine even made me think about rejecting it at one point."
Meanwhile, Samjhana's mother, who is a community health volunteer, was vaccinated under a government mandate to vaccinate all health workers. "My mother was the first person in my family to get the vaccine. She faced minor side effects resulting in discomfort, her body started aching and she had a slight fever. But that did not last for long," explains Samjhana.
As the lockdown restrictions started to ease, Samjhana heard about an opportunity to become a youth volunteer on a COVID-19 response project being implemented in her village by Plan International and its implementing partner Tharu Women Upliftment Centre.
Volunteering to support community members
Having previously worked as a community volunteer for another project run by the organisation, Samjhana decided to join so she could help people in her community learn the correct information about the virus and encourage them to take up the vaccine.
"We were provided with information about COVID-19 and in-depth knowledge about the vaccination. We discussed the research and evidence showing the effectiveness of vaccination," explains Samjhana. "I learnt about safe vaccination processes. When the vaccine was being rolled out, we heard about crowds where COVID-19 safety protocols were not followed leading to more infections."
In her role as a youth volunteer, Samjhana goes door-to-door visiting each household in her community to provide them with information about COVID-19 and the vaccination. She shares leaflets with them, discusses the vaccination process, and provides them with the schedule and location of their nearest vaccination centre.
She also works at the vaccination center supporting health staff to orient people on maintaining COVID-19 safety protocols, distributing face masks and hand sanitiser, and helping the health workers record patients' vaccination details.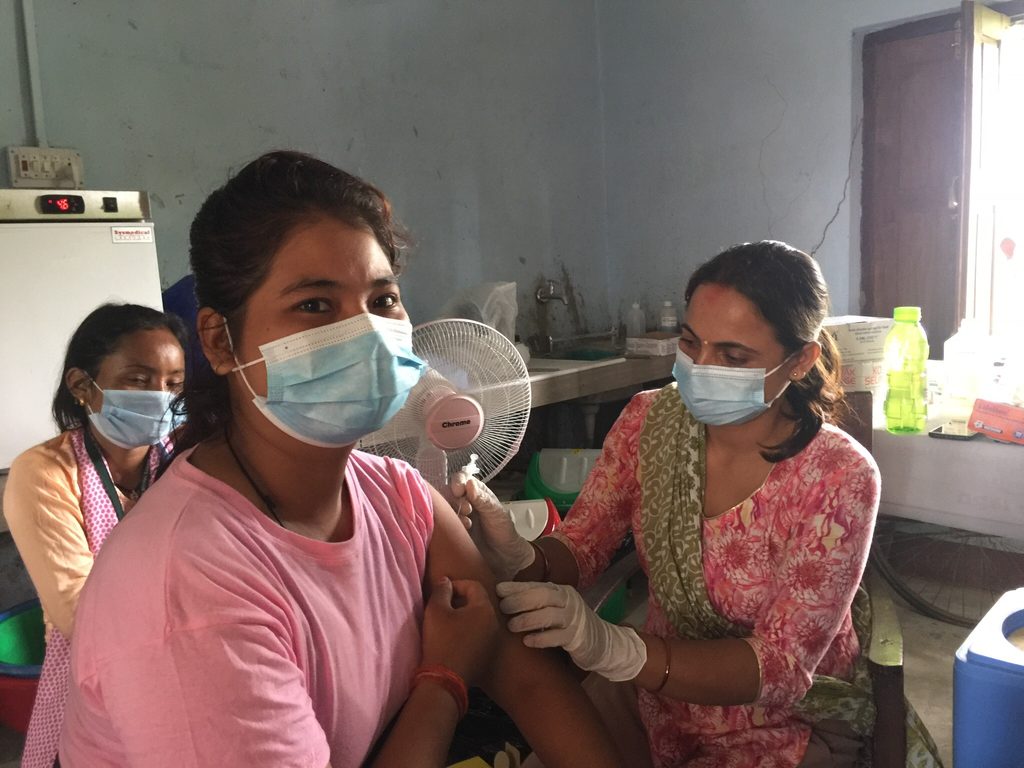 "Finally, my brother and I received our vaccinations at the vaccine centre. Believe me, a safe vaccine is what matters the most, this was the first thing I learnt as a youth volunteer," shares Samjhana. "I did not experience any discomfort. No fever, nothing at all.
"Most of my friends are vaccinated. Since our college is going to resume soon, every student needs to be vaccinated against COVID-19. I am excited about classes happening in person again soon. I will meet all my friends and will be able to encourage everyone to get the vaccine."