4 MAY 2020
21-year old Diana, a young mother and girl advocate with Plan International's Girls Advocacy Alliance project lives with her family in Kibera. Since the COVID-19 outbreak began, Diana's life has been on hold.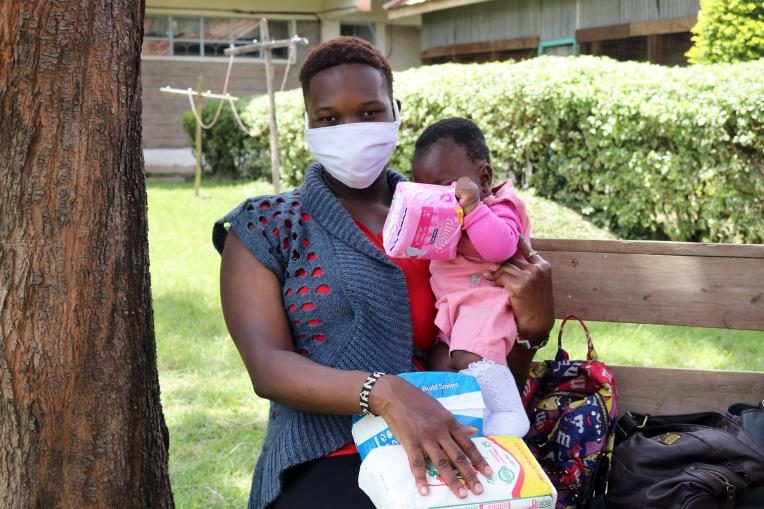 Diana fell pregnant immediately after finishing high school when she started a relationship with a man who promised to take good care of her. "I was really happy to meet someone who could buy me shopping and give me money for daily essentials. I was naïve and blind. I thought it was pure love but no. He was using me for his own sexual pleasures.
"Things changed abruptly when I told him I was pregnant. He refused to take any responsibility for the pregnancy and vanished completely. I was left on my own not knowing what to do."
Diana had to return home to her parents where she now lives with her 6-month-old baby daughter. But she is struggling to look after the baby on her own without any income.
"Before the crisis, I used to work in a mall as a shopkeeper in one of the shops, but the disease meant I lost my job and now I am forced to stay at home. This pandemic has created an atmosphere of anxiety and hopelessness. As a young mother, I fear for my child. I am currently depending on my little savings but, if the situation continues like this, I don't know what will happen to us."
Diana is a member of the Girls Advocacy Alliance project which aims to end child marriage and the economic exploitation of girls and young women. As part of our COVID-19 response, the project is providing psychosocial support to girls affected by the crisis and is trying to ensure that young mothers and women have access to free sanitary care packages and safe bathroom amenities, especially during the pandemic.
Diana recently received a care package to help get her through this difficult time. "Donating these essential packs is truly a good gesture for us as young parents. The pandemic has denied us access to sanitary towels and diapers. We used to be able to get them in school for those of us who went back, but since the schools have been closed, we have been unable to access them."
More than 50 young mothers received care packages during the distribution by Plan International in partnership with Inua Dada foundation. Each package included sanitary pads, diapers, flour, cooking oil, soap, face masks, and toilet paper.
"Our ongoing COVID-19 response in vulnerable rural areas aims to provide social-economic empowerment to those with less or no resources to meet their family needs during this period when jobs are scarce," explains Nancy Okoth, Plan International's Girls Advocacy Alliance Project Manager.
Emergencies, COVID-19