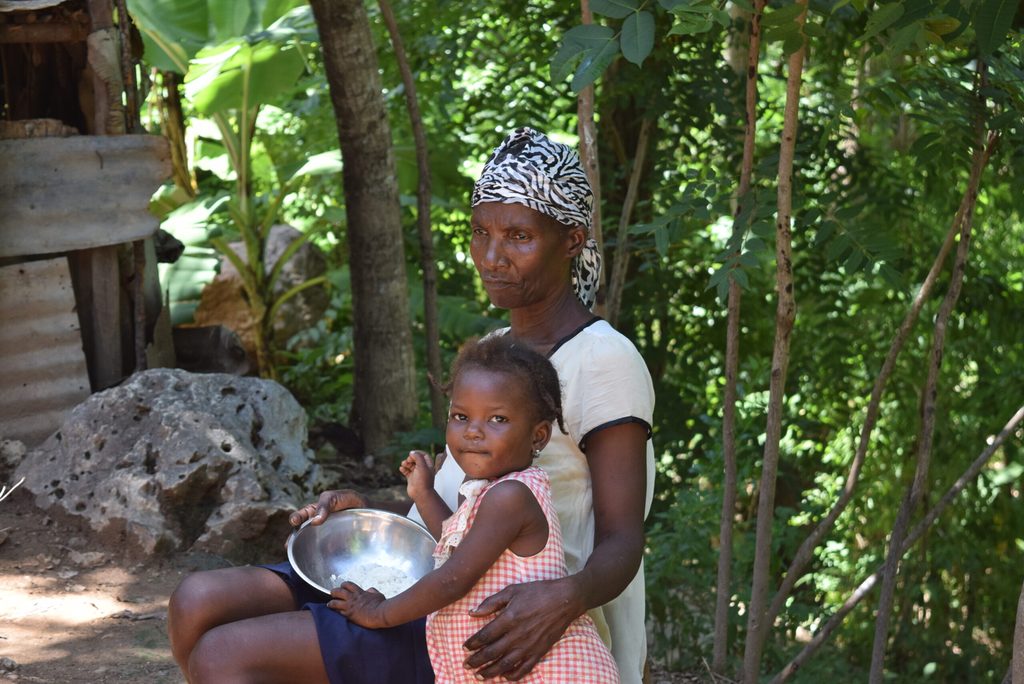 Claudette is 62 years old, she is from the Sud department in Haiti living with her 5 grandchildren. She does not have a job and she rely only on what they can harvest and grow. "I don't do anything. I work the farm for a living, cleaning the banana plants. I don't do any business. When I find a banana plant, I harvest it, if possible I sell it. Sometimes I can sell it for 500 ($4.33 USD) or 400 ($3.47) gourdes depending on the number and size of the bananas. Sometimes, when there are two banana plants, I sell them, if there is nothing, I give up"
The food situation in Haiti is a problem that affects the entire population, including people who have some economic activity. The CNSA (National Coordination of Food Security) report reveals that families need at least $120 to $152 dollars a month to have access to basic food in the country, unfortunately 52.3% of the population lives on less than 3 dollars a day, or approximately $90 dollars a month.
"Sometimes we only eat once a day, other days we cook breadfruit in the morning and a little rice in the afternoon. Sometimes we stay without eating anything."
Despite food being available at the market level, the increase in prices considerably limits the purchasing power of families. In the Southeast, food prices more than tripled during the last year.
"When things were not so expensive we could eat 3 times a day, but now it is different. I have no activities to generate income. The situation has become much more difficult after the assassination of President Moïse"
In 2021 Haiti's president Jovenel Moïse was murdered, this triggered increasing gang-related violence and insecurity, especially kidnappings, provoking an increasing number of internally displaced people, civil unrest, deteriorating socio-economic conditions, rising food insecurity and malnutrition
According to Claudette things like rice have seen a dramatic increase in price from costing 15 to now 75 gourdes a pot (from $0.13 USD to $0.65 USD), a bottle of oil used to be for around 50 gourdes ($0.43 USD) now it costs 250 gourdes ($2.17 USD) "Instead of 500 gourdes ($4.33 USD), we need at least 1500 gourdes ($13.00 USD) per day to buy food".
Plan International is currently transferring funds for food and assessing needs in water and sanitation and children protection in emergencies. We are also responding to the particular needs of adolescents, young women, pregnant and lactating mothers by raising awareness of sexual and reproductive rights and providing dignity kits.