With almost half the population of Haiti facing hunger, rising inflation, high costs of food and fuel and the deteriorating security situation are pushing many Haitians over the edge. The situation is particularly hard for single mothers, who do not have the economic means to survive, leaving them and their children exposed to all kinds of violence.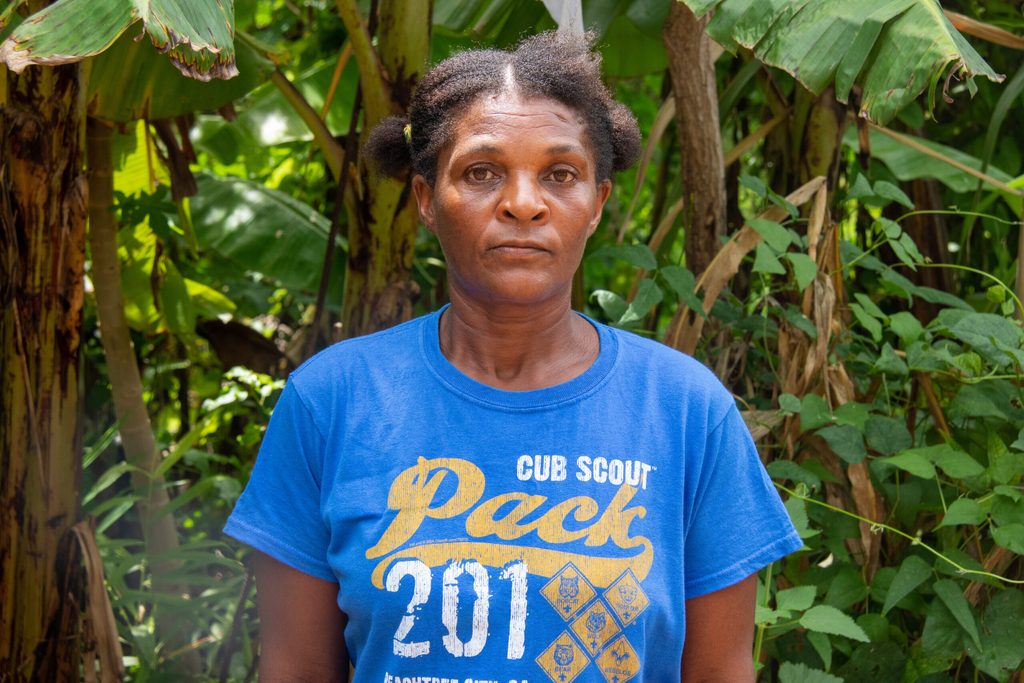 45-year-old Junette's husband died more than a year ago, leaving her to bring up her five children alone. She also takes care of her four nieces and nephews so has 9 children to provide for. She recognises that the high cost of living is putting her family at risk of exploitation.

"Since I don't have enough money to feed them, anyone can try to harm them in exchange for food, especially the girls, who are more vulnerable. If someone I don't know gives them something, I always ask why," says Junette.

To bring in a small income, Junette works breaking rocks at road crossings. It takes her around two or three days to fill a truck with rocks, which she then sells for 1500 to 2000 gourdes (the equivalent of 15 US dollars) which is enough to buy a few days' worth of food.

When her husband was alive he had farmland that the family grew crops on to sell, but after his death Junette was told that she could no longer use the fields. "That's why I didn't continue to cultivate, I was told not to make any claim to the land when he died, I can't go to the fields because they don't belong to us."

Food prices in Haiti have been increasing in part due to the closure of the main roads which connect Port-au-Prince with the southeast department after a severe wave of gang violence in the country. Armed gangs now control almost every route in and out of the capital city.

The conflict in Ukraine has also caused the cost of the petrol and gas to rise worldwide. In Haiti, petrol stations are closed and protesters demonstrating against the fuel shortages have blocked the roads, further restricting access and the transport of food and aid throughout the country.

"Last year if you had 500 gourdes in your hand you could buy rice, oil, buckets, small bunches of bananas and potatoes. This year things are much more complicated, if you have 500 gourdes you can't even prepare a single meal," says Junette of the rising cost of living.

"With 500 gourdes now, I can only buy a little coffee, a small can of sugar and bread in the morning and in the afternoon two small cans of rice. It's not easy to have no food in the house, the youngest children often asks me when I'm going to cook some food. We haven't eaten well for a year, sometimes we don't even eat twice a day."

The crisis is also affecting Junette's children's education. Despite the principle of free school in the National Constitution, Haitian families are subject to tuition fees since 80% of the schools are private. These expenses represent a huge expense for most Haitian families.

"Today I went to get a report card for one of my children and he was expelled from school as I could not pay the fees," Junette shares who does not know whether the same thing will happen to her other children. "I have four children in school."

Junette's children are part of Plan International's sponsorship programme and have received school kits, which include backpacks, notebooks and pens. In the next few days, she will also receive a cash transfer from the organisation to help her buy food and start an income-generating activity.

"If I get some money, I will buy food to help the house. With a small amount of money, I can start a small business. I will buy sugar, oil, and rice in the stores for resale. This will be a relief for me. I will also repair the house as the wood is rotten," says Junette.