What holds girls back from politics?
3 October 2022
<br><strong>The 2022 State of the World's Girls report '<a href="https://plan-international.org/publications/equal-power-now">Equal Power Now: Girls, Young Women and Political Participation</a>' explores girls' and young women's attitudes to and experiences of political participation. With findings and recommendations from the opinions of girls and young women themselves, the research makes clear that more needs to be done by decision-makers at every level of society to uphold girls' rights to participation.</strong><br>
Plan International spoke to 29,000 girls and young women across 29 countries about their experiences of participating in politics.
Whilst 97% of girls believe participating in politics is important, 94% of girls also told us they face challenges when trying to participate.
We spoke to girls across the globe and found they have been undervalued, undermined, and underestimated. They are frequently excluded from the decisions that affect them in their homes, schools, and communities, and in the corridors of power.
"Whenever girls get involved in politics, their character is questioned"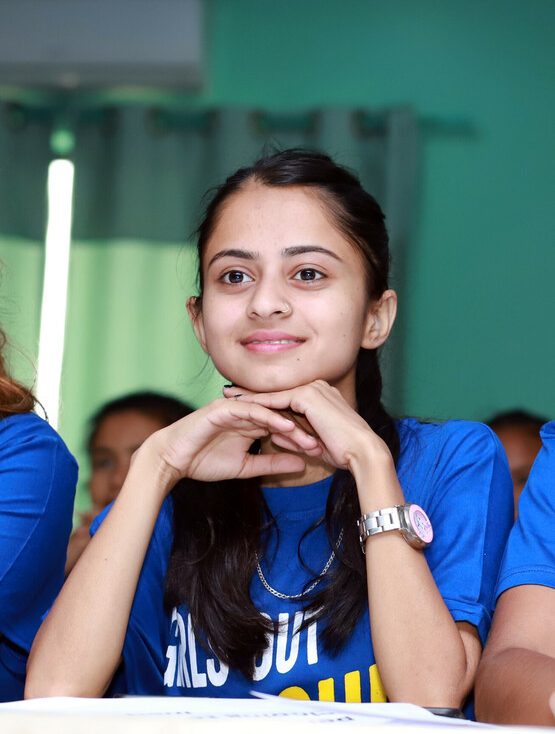 Swastika, 19, from Sindhuli district in Nepal, is at college studying political science. She believes that girls face barriers that boys don't when it comes to participating in politics.
"Whenever girls get involved in politics, their character is questioned," she explains. "People will ask, why is a girl going into politics? Why is she being over-smart? Even when girls want to lead, there is no space for them to. Politics is seen as a topic that girls shouldn't get involved in. They have that fear that they will be questioned and that it will affect their standing in society later, because it becomes associated with their family's reputation and honour."
Swastika, who is a member of Plan International Nepal's Girls Out Loud group, has therefore thrown herself into campaigning for young people to take part in politics in a more meaningful and less tokenistic way. She sees it as important that young people make the most of their right to vote, but for a party that will stand up for their interests.
"Political parties always remain silent when we approach them on condition of school buildings, child rights or requesting their support to end child, early and forced marriage," she says. "It's our right to vote. That right should be used. Young people should vote, but not just for the candidate they know, they should vote for the candidate who will do right for them and for our country."
"We live in a patriarchal society where it's common to believe that whatever men decide, we should go with," she continues. "All of the main spaces where decisions are made are dominated by men. And when woman are included, perhaps because of quotas, men often only want to include women who comply with them and will not speak for women. They don't want someone like me who is really politically engaged, someone who does their research and knows the reality."
Girls want to be recognised as drivers of lasting change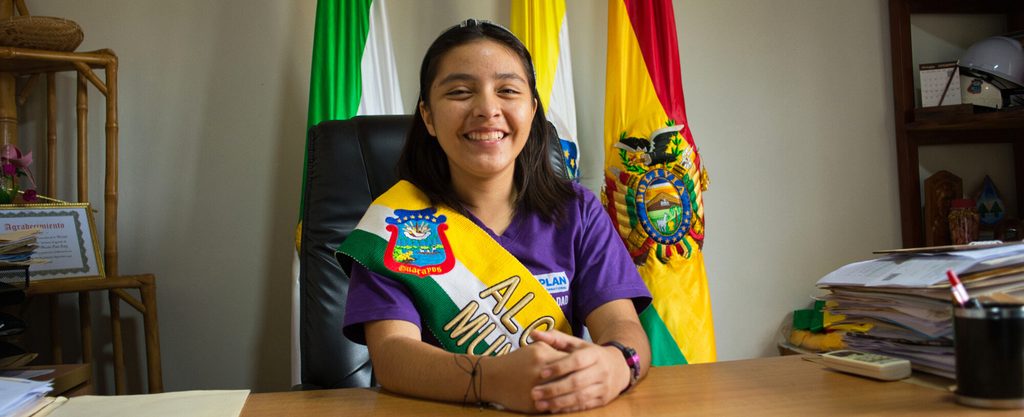 Girls care about political issues. From education and poverty to the environment and climate change, girls want to be recognised and valued as drivers of lasting political change.
But globally, girls and young women are often left out of the decisions that impact their lives.
Yordana is 12 years old and is making a great impact in her community of Ascension de Guarayos, Bolivia. Her main focus is on ending violence against women and girls through educating her peers.
"With violence against women, I think education begins at home. Boys should be educated so that they respect girls and girls should know how to make themselves respected and get people to respect them. I want to break stereotypes and put an end to violence," she says.
Yordana is also being recognised by her community as a young and influential leader. She was recently awarded a scholarship from the Utepsa University in Santa Cruz, as a result of her involvement in Plan International's Choose and Demand Your rights programme which works to strengthen the leadership skills of girls and young women so they can take more control of their lives.
"I live in a rural province and it's hard for us to study in higher education," explains Yordana. "This is a grant they awarded me for when I finish secondary school. I've only just started secondary school, but the grant is there waiting for me so I can do a university degree later."
That degree will be in psychology, says Yordana. "I've been able to talk to professional psychologists and that has motivated me to do the degree. And I think studying psychology will help me talk to other girls who have been psychologically damaged, because it's not just physical abuse that they suffer, but psychological violence and that degree will help me in the future to help them."
She also wants to encourage more girls to get involved in political issues by influencing and advocating for them.
"I'm interested in motivating other girls so they can be empowered, gain self-confidence, lose their fear and be comfortable and not be ashamed to express their views and how they feel about things, especially political issues," she says.
Girls are held back by outdated stereotypes
Girls are discouraged from taking part in politics because of both their age and gender. As young people, they're dismissed as being too immature, as girls they are held back by gender stereotypes and inequalities.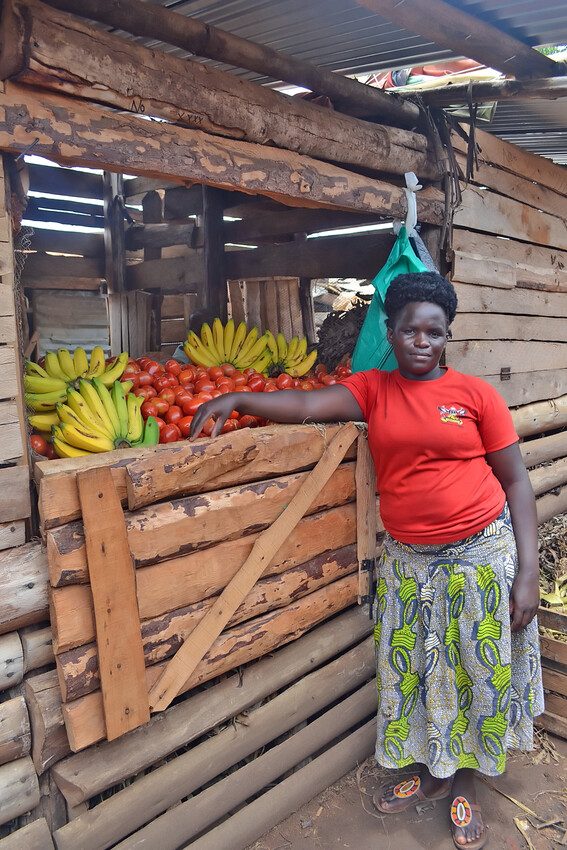 "Most people don't realise the potential that women have. They don't realise that women can do great things in their community, more than men, if given the opportunity," says Rufina, 23, who comes from a rural village in Uganda's Tororo district.
"In our community, it is difficult for girls to attain political positions. They believe it is males who are supposed to do this and females should do kitchen work," she explains.
When young women do take part in politics or are seen with male politicians, it is also often assumed they have reached this position because of sexual relationships or favours. "This stigma means that girls shy away from these positions," she adds.
Rufina earns a living by running a small grocery business, selling fresh fruits, and one day hopes to become a Member of Parliament (MP) so that she can advance gender equality and youth empowerment. In 2020 she successfully stood in Uganda's National Youth Council elections and won a position as village youth chairperson in Agururu.
Not wanting to stop at village level, she then stood and won a parish level position as female affairs representative. But when she then ran as youth chairperson for the Western Division, she found herself contesting two powerful young men, one of whom was the son of a local MP.
"You need money to successfully run an election campaign, yet money was my issue," she explains. "I financed my campaign using small donations from friends and earnings from my small business, which got drained by the campaign."
Rufina believes that a lack of funding is one of the biggest challenges for young women in Uganda who want to stand for political office. "You find that as a young girl, you don't have the huge money that some men, especially those from rich families do," she says.
"The political issue that I care about is having a favourable environment where girls can freely express themselves on the issues that affect them, and having policies that value girls," she says.
"I talk to the community about growth and development, asking them what they think I can do for them as a leader. I mobilise youth and engage them in in the development of the community," she explains. For example, she set up a Resilient Youth Group and supported them to lobby for funds to buy seeds and fertilisers, and has connected other young people to job and training opportunities.
Girls have the right to take part in the decisions that affect their lives
Girls and young women, in all their diversity, have the right, at local, national, and international levels, to take part in the decisions that affect their lives.
Together with girls and young people, we have co-created the Girls Get Equal campaign: Equal Power Now, calling on leaders and powerholders to uphold girls fundamental rights to participate.
It's critical that girls and young women's voices are heard. Critical as a right, critical to shaping the policies and decisions that shape their lives, and critical to achieving gender equality.