3 OCTOBER 2017
Plan International's new research shows that no matter what they are capable of, girls face a wall of resistance in their struggle to progress. We spoke to girls in Uganda about the Champions of Change project and how it is helping them defy expectations and realise their dreams.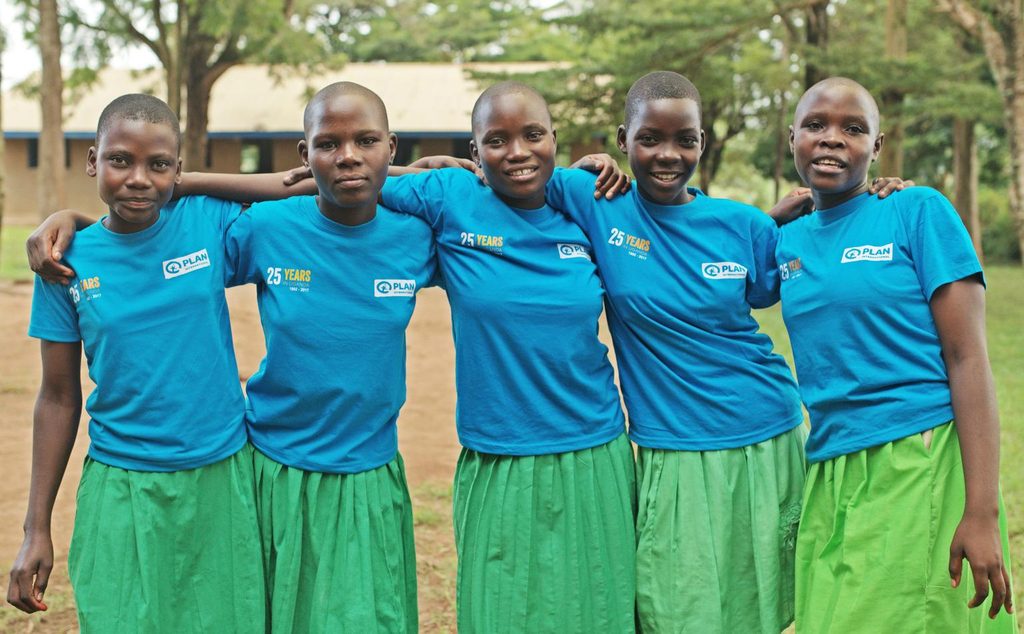 Forced to marry their sexual abusers, transactional sex to afford school books, pressure to abandon school due to family hardships – these realities are still all too common for girls living in Uganda today.
Plan International's new research report Unlock the Power of Girls Now shows that no matter what their circumstances are and what they are capable of, girls face a wall of resistance in their struggle to progress and realise their dreams.
Plan International's research found that just over half of the female interviewees we spoke to in Uganda were already mothers, most first becoming pregnant at 13 or 14 years old.
Young activists committed to change
However, a group of young activists is committed to changing this. Hand in hand with Plan International, girls are challenging the authority and the expectations of those around them.
Christine, 19, was forced to drop out of school at 15 when her widowed mother could no longer afford the fees. A year later, she got married. "I was so bored at home," she explains. "I had nothing to do and no money. My mother told me it would be best to look for a man so he could buy me things I needed, like sanitary pads."
The man's family paid just $40 for her to become his wife and, a year later, she had a baby boy called Julius.
Christine felt frustrated and alone, forced to stay at home all day by a husband who placed restrictions on when she could go out. "My parents struggled to be able to send me to school until I was 15 and here I was, wasting my education by just staying at home," she says.
Defying expectations
Last year, Christine's life started to change. She joined a local girls' rights club set up by Plan International for girls and boys who had left school early, where she received training to identify and help solve some of the common problems girls were facing in her community, such as sexual harassment.
Before long, she was elected chair of her district club. "I felt so empowered," she says. "It gave me the confidence to talk to my uncles about how I wanted to go back to school and to explain to my husband that I needed to leave the house to do important things to help other people."
"I feel free now," she says. "I hope to make my dreams of becoming a teacher a reality."
Sexual exploitation for school books
The story of Asha, 16, is a stark example of the lengths girls living in poverty will go to in order to secure what they want most in the world: an education.
"When I was 14, I was living with my aunt and she would send me out in the evenings to buy things. One night, a boy asked me to go home with him. He promised to buy me sanitary pads, and school books and pens, if I had sex with him. So I agreed. I didn't know that if I had sex with him I could get pregnant. My baby – his child – is now two years old."
Asha missed two years of school after her baby was born but has recently returned to education. Her parents told her to find a husband but she was determined to continue her schooling.
She is now participating in a girls' rights club run in collaboration with Plan International, where she is learning how to protect herself and other girls from further sexual exploitation.
Promoting gender equality
In the deprived slum community where Joan, 20, and her friends grew up, young teenage girls would fall pregnant on an almost daily basis. "The parents believe that when a girl starts her menstruation, she's old enough to become a mother or a wife," says Joan.
Passionate about challenging such attitudes, Joan volunteers as a facilitator for Champions of Change in Kampala – a community-wide initiative to promote gender equality. In Kampala, the project is reaching out to two football youth groups with information on life skills and reproductive health.
"One of the girls I engage with was sexually abused and being forced to get married to the perpetrator as she was pregnant with his baby," she says. "I mentored her and encouraged her to say no to the marriage and instead find another way to earn some money. She now roasts maize at the roadside and has enough money to sustain herself and the baby."
Ugandan boys champion gender equality
Plan International's research shows that young people, particularly girls, across the world are eager to challenge gender discrimination and take the lead in changing their lives but are routinely beaten down by obstacles ranging from lack of support to fear of backlash for standing up for their rights.
Girls can lead change, but they can't do it alone. They need allies. Everyone – governments, civil society, corporates, leaders, parents, and other girls and boys – need to understand what constitutes gender discrimination, their role in it and how they can eliminate it.
Plan International is engaging with young men in Uganda who are displaying a brave determination to stamp out gender discrimination.
"In our community, women are looked down on, which is not good – they are human beings just like us men are and deserve to be treated equally," says Abel, who grew up in a family of seven girls.
Through Plan International's Champions of Change project in Kampala, Abel and his fellow campaigners set up a scheme whereby out-of-school girls could earn money by making and selling handbags, which they use to help them go back to school.
Abel dreams of a Uganda in which men treat women equally. "I want to see women given the same jobs as men."
Political and social revolution
Rashid Javed, Country Director of Plan International Uganda, believes that having boys and young men campaigning for girls' rights alongside girls and women has had a powerful impact in improving gender equality in Uganda, but more still needs to be done.
"Plan International's research shows that for girls, their experience of inequality and discrimination often starts at home where they are treated differently to boys by relatives.
"Governments must step up and intervene in public and private spaces – from homes and boardrooms, to political institutions and in the media to end violence, discrimination and injustice against women and girls."
"In short, what we desperately need is a political and social revolution to ensure gender inequality is stamped out from every aspect of private and public life."
Education, Girls Get Equal, Activism, girls' leadership, youth empowerment