12 JUNE 2017
Fathers can play an important role in creating an equal environment at home and in the community.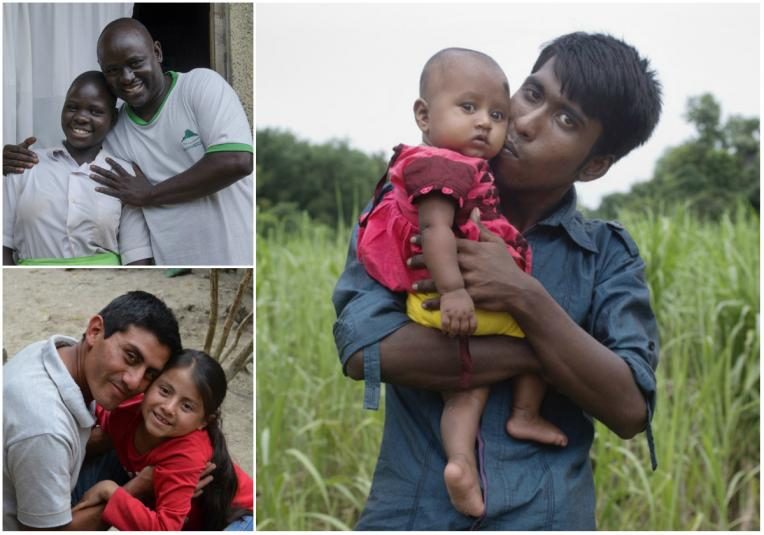 When girls' lives improve, everyone benefits. And a vital component for achieving gender equality and rights for girls is the involvement and support of men and boys. Fathers, in particular, can play an important role in creating an equal environment at home and in the community.
When a father champions his daughter's rights and helps to break down gender barriers, he's helping pave the way for a better and brighter future for all girls.
Meet 5 fathers from around the world who are proudly standing up for equality, taking action to support their daughters and inspiring other men to do the same.
1. The father who is fighting FGM in Ethiopia
Female genital mutilation (FGM) is a violation of girls' and women's' human rights and can result in serious, lifelong consequences.
38 year old Kebebe is the headmaster of a primary school who was shocked to notice the rise in absentee rates among girls after having the FGM procedure. With the support of Plan International, Kebebe is working with his students to stop the practice.
"I have supported the founding of the Uncut Girls' Club at our school," said Kebebe. "Members discuss FGM, early marriage and other harmful practices. They spread the word in their own communities too. This has really made a difference. Many boys in our school have joined the effort."
Kebebe has vowed to protect his own daughter from FGM.
"My 9 year old daughter has not had FGM, and will not have it. Her goal is to be the Chair of the Uncut Girls' Club."
2. The father who is breaking the cycle of child marriage in Bangladesh
Early marriage disproportionately impacts girls with more than 720 million girls married before 18 every year, although it affects 156 million boys annually too.
In Bangladesh, 17 year old Nazir and his wife, Sharina, 14, were both forced to abandon school to marry. While they have a happy relationship, they're determined to stop the cycle of child marriage by making sure their 6 month old daughter, Tonni, receives the education they missed out on.
"Together we have agreed that we are never going to make the same mistakes our own parents did," says Nazir. "It's my wish that Tonni will become a doctor."
3. The father who is smashing menstrual hygiene taboos in Uganda
Menstruation is part of most girls' lives. Unfortunately, in many countries, the lack of reproductive health education, appropriate facilities and cultural taboos can leave girls confused, ashamed, and too scared to go to school during their period. This happened to Agnes when she was just 11 years old.
"I went home immediately. I did not know what was happening to me and what I could do to stop the bleeding." said Agnes.
Her father, William, was keen to help Agnes feel confident enough to go to school throughout the month, despite concerns about the very high cost of monthly sanitary supplies. So William went out and bought eco-friendly, reusable cloth pads for all five of his daughters, as well as his nieces who live in a neighbouring village.
"Normally girls in Uganda do not discuss such matters with their fathers," says William. "Agnes did not dare ask me to buy sanitary pads every month. As a man, I do not automatically think about such things, but [buying reusable pads] seemed like such a good idea.
"Agnes was afraid to go to school at first. Now she can go to class when she is on her period. And I think that is incredibly important because it is better for her future."
4. The father who is pushing for inclusive education in Guatemala
When Alvaro's daughter Naydelin was beginning to crawl, he noticed she was having trouble with her legs. Unfortunately, Alvaro and his family live in a remote community in Guatemala, where the health clinic is far away and expensive to travel to.
Now 11 years old, Naydelin's physical disability means she struggles to walk, so going to school isn't easy. However, Alvaro is committed to his daughter's education and even made her special shoes to help her walk comfortably.
"There are some children that have a disability who do not go to school because they feel embarrassed, but I always say that we can all reach the goals we set ourselves," says Alvaro.
Since Plan International introduced a community-based rehabilitation project to the area, bringing family, school and community together to support children with additional needs, there are now other children with disabilities enrolled at her school.
Nayadelin likes to sing a song her father wrote for her to boost their self-esteem "Let's all change our hearts and minds. We will change our community to understand that we are equal and no-one is best!".
5. The father who supports girls' economic empowerment in India
Vijay lives in a slum resettlement in Delhi with his wife and two daughters. His eldest, 19 year old Komal, recently completed training with Plan India's Saksham project which teaches vocational skills to marginalised youth. Komal is now employed by a fast food restaurant, a job she adores.
"I can't even express how much of a change I have experienced in myself. I used to be so frightened to go out on my own or to deal with strangers. Now, I feel confident to deal with anyone and speak up for myself." says Komal.
However, it's unusual for women to go out to work in India. Of the 35 million young women aged 15-24 in India's urban areas, only 9% are in formal jobs.
Vijay, a manual labourer, says "I came under tremendous pressure from my relatives and the community for letting Komal get a job. But I wanted to stand by my daughter."
"I missed the opportunity to get an education which I've regretted all my life. I only earn about 350 Rupees ($5) a day when I can find work. When I saw women in higher positions, I dreamt of my own daughters becoming professionals. I feel very happy to see that Komal is earning a decent salary and continuing her higher education. I trust my daughter and feel part of her success no matter what people say."
"It's not easy in our society for parents to send their daughters to work. It's particularly hard for me as it's traditionally a man's role. We are regularly reminded to get Komal married but I have assured her that it won't happen unless she is ready. I want her to be successful."
Girls Get Equal, girls' rights