From Words to Actions: Youth Activists Calling for an End to Child Marriage in Asia Pacific
"The dress of freedom is not tight
It doesn't prevent us from soaring towards the right
The dress of freedom is for everyone
It does not leave you, me or anyone
We need to start sewing today and tomorrow's freedom.
Because everyone should have their own dress of freedom."
Dress of Freedom, by Kenia, 17-years-old, The Philippines.
Closing her statement at the third regional ASEAN forum: Towards a Child Marriage Free Southeast Asia, on the 17th of November 2021,Kenia shared her empowering poem on gender equality to the online audience of delegates, government officials, the ASEAN dignitaries and other stakeholders.
For the last three years, young men and women, like Kenia, have been taking center stage to give first-hand accounts of their own experiences and activism in preventing and stopping child marriage. All the while urging the influential decision-makers to take decisive action in ending it – once and for all.
With aims to build upon the regional work so far in eliminating child, early and forced marriage, the forum's spotlight would once again find itself shining most on the moving and inspirational testimonies from the young activists, inspiring the audience to take action.
Creating a collective voice to end child marriage through advocacy and arts (Kenia, The Philippines )
In her moving speech, 17-year-old activist and creative performer Kenia detailed her understanding of what root causes align to make child marriage a common and negative experience in her community. As was the case in the other regional testimonies, social norms and traditions coupled with issues of poverty were top of the list.
"Child marriage is difficult to eliminate because it has been part of our reality for many years. Mangyan girls and boys (a group of indigenous people from northwest Philippines) grow up in a community where as soon as they hit puberty they are expected to be married off in a matter of weeks and months."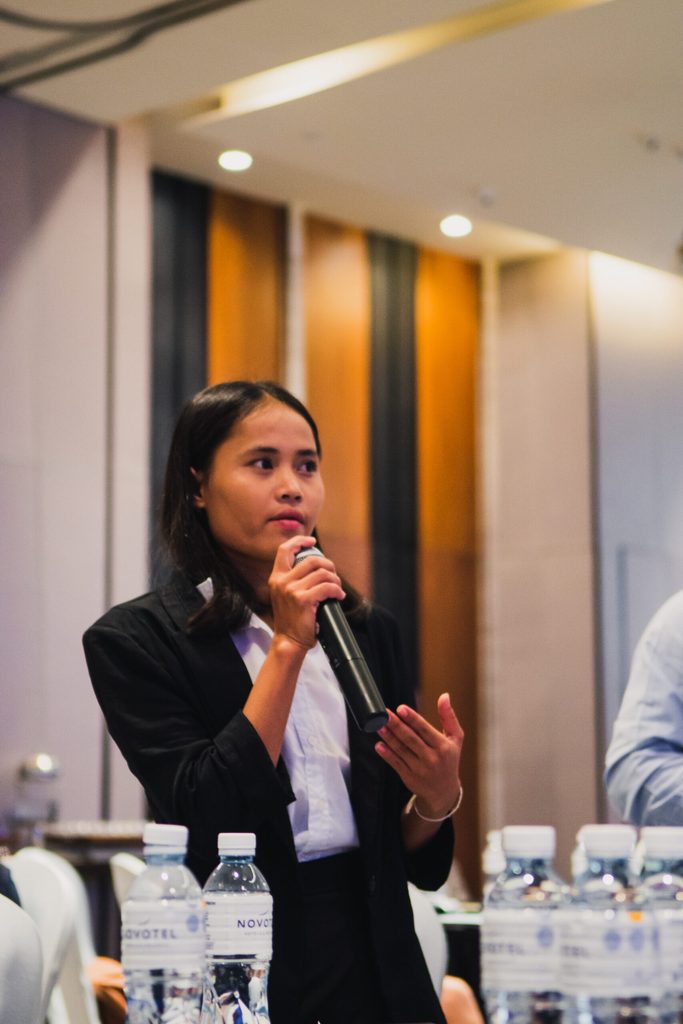 Standing up against these long-standing norms, Kenia told the forum how she started her advocacy in 2017 as part of the Radio Show Bidang Bulilit (Small Children Are Stars). Supported by Plan International Philippines since 1999, the show talks about gender issues and rights. Kenia has been able to use the platform to share her poetry and call for awareness and action.
"Up to this day, I take part in discussing and developing a local policy in prohibiting "Kasal Katipunan" or traditional wedding ceremonies of Mangyans. Kasal Katipunan enables early marriage among young girls, as well as contributes to the increasing rate of adolescent pregnancy in our area," she said.
She described how her involvement led to her joining a youth group campaigning nationally against child marriage.
"Eventually, I became one of the many advocates who call to end child, early and forced marriage which led to the swift passage of the Prohibition of Child Marriage bills in the Philippine legislative chambers," she said.
Above all, her statement repeatedly highlighted the importance needed to be placed on investment in education. How indigenous communities, like the Mangyans, place marriage above education, believing it will ultimately detach them from poverty. Yet, as her own experiences prove, it turns out to be the opposite.
"I know what will happen next. I have seen it. After that fairytale-like wedding, the nightmare of a lifetime follows: early pregnancies, dropping out of school, abuses and violence at home, burden of homemaking and care work, and unemployment," she said.
Kenia also explained how the COVID-19 pandemic worsened the situation, with incidences of abuse in remote areas where indigenous people live left unreported.
"Because of the economic hardships the pandemic caused, girls were pushed to marry at a young age to escape the financial burden in a hope for a better life. Online classes left girls in our communities frustrated. Unstable internet connections, especially in secluded areas, forced girls to drop out," she said.
Call to Action
Yet these further obstacles in fighting child marriage have not deterred Kenia, making her more determined to stamp out this damaging practice. She repeatedly called for governments to do more in policy and law and to work with others in order to do this, and to eradicate cultures and traditions that harm girls and young women.
"We must educate the youth on sexual and reproductive health and rights, including their parents. Improve access to reproductive health services so that young people will be better informed and guided," she said. "Girls and all children and young people from indigenous communities must be included in decision-making. Our voices must be part of discussions and we should have a platform to tell our stories. Our realities."
To get those voices heard, she wants other youths to join her in the fight against child marriage.
"Our voices and representation are powerful tools that can amplify the voices of the unheard. We have proven this. I personally use my social media platform in spreading knowledge on the issue. I share their stories through my poems. Stories that speak truth and reality," she said.
Throughout her testimony, it was clear the young advocates fighting against child marriage need a bigger platform to help eradicate this harmful practice. She concluded by urging the online audience to empower them to achieve this.
"To our leaders, let us optimize our power within. Let this power reach those who need it the most, specifically those who are often left powerless. We, the young people, cannot wait to see how you will continue to use your power to effect change like what you have done today and be someone's hero," she said. "Work with us in getting our freedom from child, early and forced marriage."
Removing social stigmas to help end child marriage (Tien, Vietnam)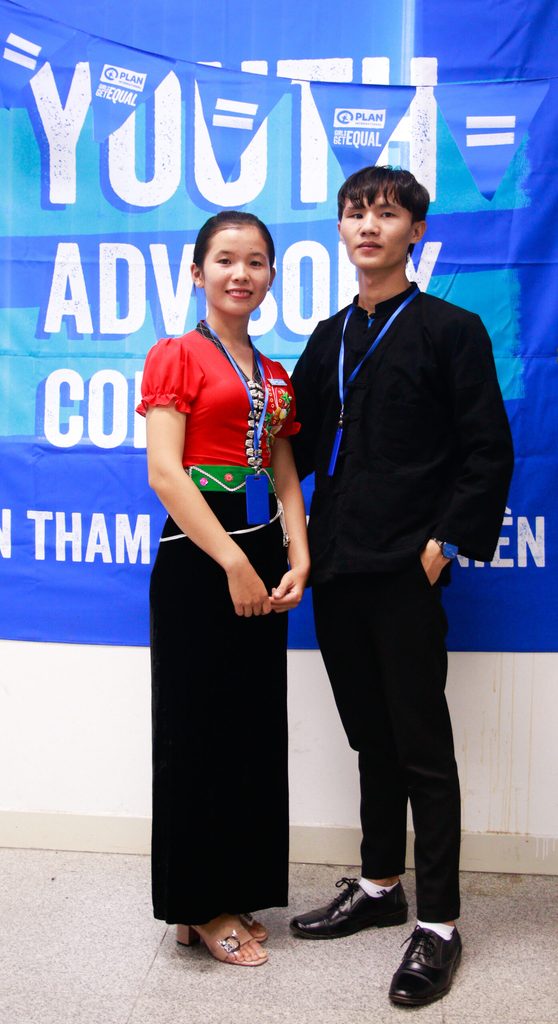 Throughout the regional testimonies, speakers repeatedly described how the different Children's Clubs and Youth Forums, supported by Plan International, are providing opportunities to understand the causes more, learn and collaborate with others. Boys and girls alike are working together to end child marriage and create a gender-equal society. Just like 20-year-old Tien, a young man from Lai Chau Province, a Northern mountainous area in Vietnam.
"Around 5 years ago, child, early and forced marriage was a very common practice in my village. If a girl was not married before 18 years old, everyone in the community would think her or her family had a problem," he said. "When Plan International came to our village, I could witness changes in people's behavior, especially among younger generations who are more open to absorb and accept new perspectives."
After actively advocating to fight the issue for some years, Tien was selected as the head of his Champions of Change Club, where they organize monthly meetings for members to share their experiences, advise each other when their parents force them to get married, and host community events. These events inform people of the negative consequences early marriage can bring to the entire family and community.
"We didn't just talk in general. We had young married couples joining us and sharing their own stories. We discussed equal education and worked together on new livelihood models like raising local goats, planting and growing local rice, etc. to prove that there are different opportunities better than getting married early. I understand that our activities are small, but I believe that effort from the grassroot level can always make a difference," he said.
Call to Action
As a young man advocating for the rights of females, Tien is a firm believer in the power of the collective. He emphasized the importance of involving others to change the social norms and prejudices that form part of the root causes of child marriage.
"I always believe that ending child marriage is not the sole responsibilities of girls and women, but boys and men are also key factors to make a change," he said. "If both boys and girls work together to persuade their parents, their collective power could win."
He finished his speech by calling on people to join him and his friends; to learn and grow and understand there are many opportunities for boys and girls beyond child marriage; to break through the damaging social norms and gender stereotypes.
"Child, early and forced marriage has a negative impact on all of us, no matter what our gender is. Let's believe in collective power, so both girls and boys can eliminate this issue. We have many opportunities waiting for us out there, don't be tied down by social norms and prejudices!"
A fearless leader driving change to reduce child marriage (Ria, Indonesia)
24-year-old Ria, from South Kalimantan Indonesia, has been an activist against child marriage since 2017. Her empowering speech explained how her life exposed her to the magnitude of problems confronting girls, making her determined to equip herself with the knowledge to help confront this situation head-on.
"I don't want any other girls ever to experience what my mom had been through," she said.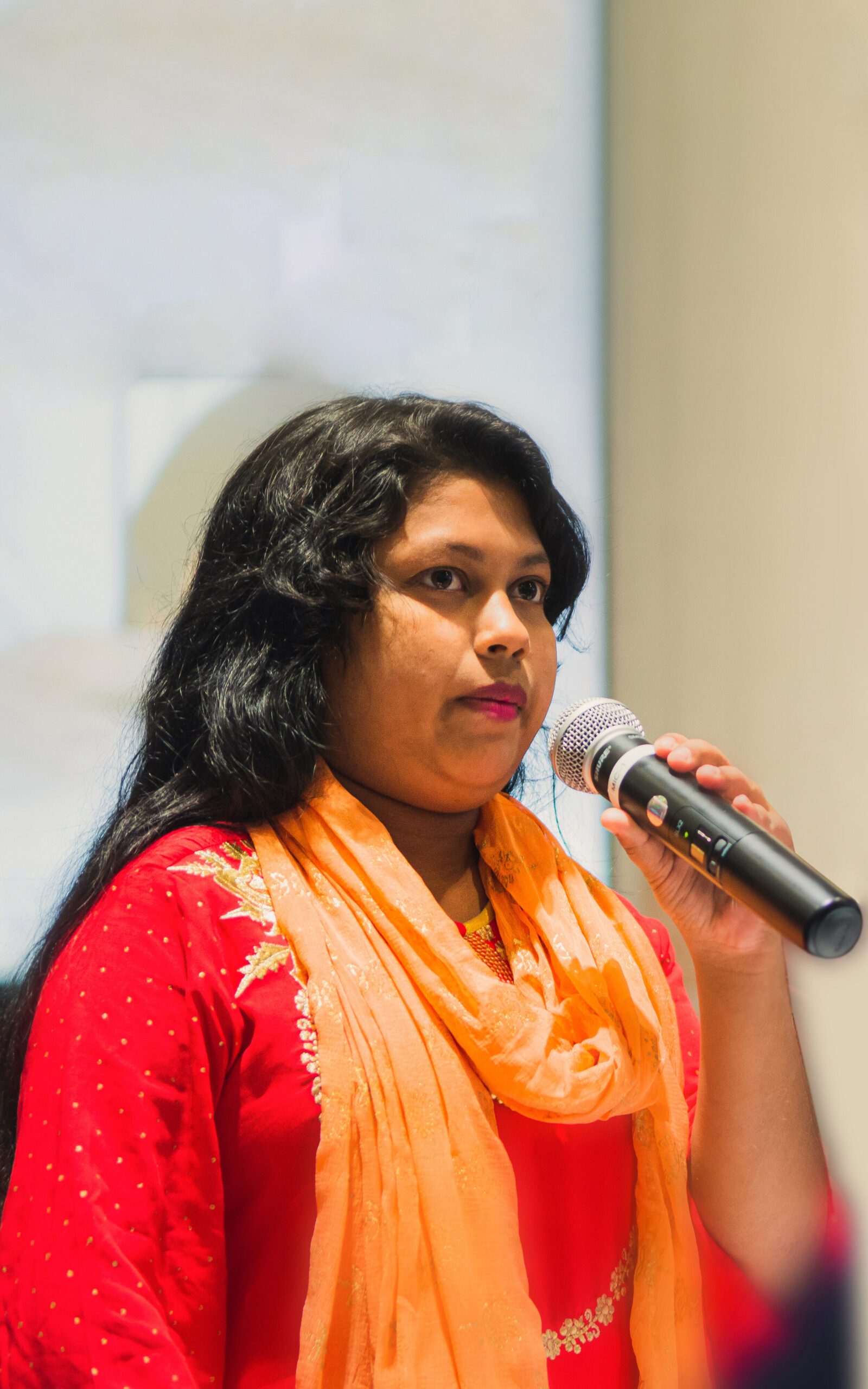 She detailed how writing in a scientific journal exposed her to even more of the impact's child marriage has in Asia.
"That only made me understand this problem better, and it urged me to contribute to preventing child marriage, by actively participating in community-based activities related to broader child rights issues," she said. "I learned that child marriage has been disproportionately affecting girls' lives, which inspired me to focus more on girls' rights and gender equality."
As a result, she formed Girl Up, which focuses on child marriage prevention in her community and gender equality.
"We visit schools to conduct workshops on child marriage related issues and its prevention, including sexual reproductive health and rights, and leadership capacity strengthening to raise awareness about the worst impacts of child marriage," she said.
Her tireless work and knowledge were apparent to the listening audience; she streamed off research point after research point that highlighted the devastating impact child marriage has had in her area.
"More than 2.500 children were registered in the marriage administration in South Kalimantan from 2017-2020, and it is the fact that it causes harmful impacts for the children and their community life. More than 30% of domestic violence cases were found. More than 40% of girls dropped out of school. They lost their opportunity to improve their skills and capacities, and the most dramatic was 24% of the divorce rate, which was caused by early and forced marriage," she said.
As with other speakers at the regional forum, she explained how the COVID-19 pandemic has worsened the situation.
"Girls could not go to school and ended up being stuck at home. They did not have any more choices to survive in the face of economic problems caused by the pandemic situation. Their parents felt the urge to marry them off to ease their economic burden," said Ria.
This is what inspired Ria to launch another project, Amplify Her, providing girls in the local area with basic digital and technology skills and scholarships to adapt to the online world.
"We genuinely think by encouraging them to do positive and productive activities, it will help them to think beyond marriage as the only option for their future," said Ria.
Call to Action
Ria ended her inspiring testimony with hope and calls for stakeholders to collaborate more. She believes national and local governments must work together to ensure policies are implemented at the ground level. And countries across the Southeast Asia region should take inspiration from each other to end child marriage.
"All stakeholders must work together and collaborate and not work in isolation, especially in their efforts to optimize children's capacity to ensure children, and girls in particular, have resilience and they can become the agents of change," she said. "We have to ensure that all child marriage programs are implemented in grassroots areas with good monitoring, evaluating, so they could strategically improve the awareness of the society. I strongly believe we can end child marriage. Women, girls, youths, and all have a brighter future that we could never imagine before."
Inspiring other men to advocate against child marriage (Rizqi, Indonesia)
Perhaps the prevailing messages from 22-year-old Rizqi's testimony inspired the male audience members the most. He told the audience how, since a young boy, he has been an ally to girls and an activist against child marriage.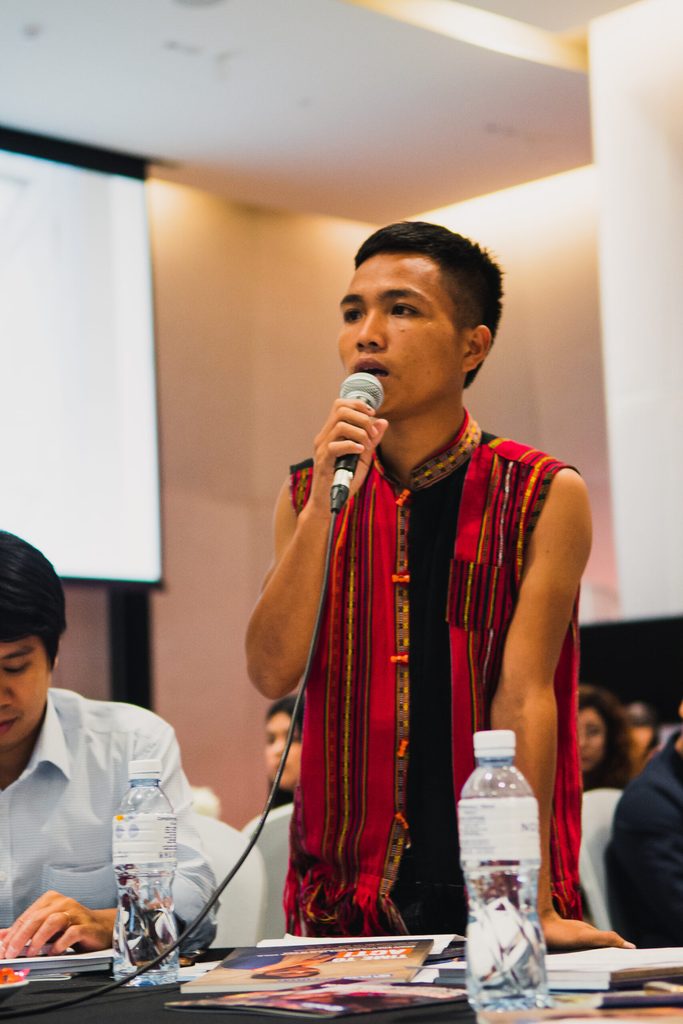 "I am a young activist and can boldly say that I am a feminist who has been actively advocating for the fulfillment of child rights in Indonesia, particularly for marginalized girls living in rural areas. Boys and men are part of the solution too," he said.
From the Bogor district, where cases of sexual abuse towards girls and young women are reported to be very high, his testimony's purpose was to highlight the inaction of boys and men in the fight against child marriage.
"The issue is very close to my heart as my friends, mostly girls, have often been victims. Living such a reality, I decided to take real action by establishing three major children and youth group platforms to actively participate in promoting and claiming child rights," he said.
Through these groups – The Children's Forum, The Student's Form and The Adolescent Alliance – he told the audience how he runs intensive peer-to-peer dialogue among children and youth on issues such as violence against children, including sexual violence, and leads child-led research on child marriage – in partnership with Plan International Indonesia.
His list of advocacy and action is endless. Most need to take a deep breath before listing Rizqi's activism against child marriage. As well as the three platforms, he has been part of the National Movement for Girls rights and Gender Equality, focusing on the strong engagement of boys and young men. Something he feels is clearly lacking.
"Based on my reflection, many tactics in eliminating child marriage are mostly targeting girls as they are predominantly the victims, while boys and young men have not been engaged as part of the solution," he said.
He explained how more work needs to be done in actively engaging boys and men to become advocates for girls, especially in predominantly male dominated cultures.
"Boys and men are the critical actors to change continuous norms and behaviors in patriarchal culture, like Indonesia, where men are seen as the ultimate decision-makers to decide whether or not to get married. In the forums that I have joined on gender equality, the numbers of men are still low," he said.
Call to Action
Despite these worries, Rizqi's optimism shined through. He believes change can happen as long as there are welcoming environments for boys in groups like the Youth Coalition for Girls and more opportunities to learn about gender equality, challenge gender stereotypes, and discover the dangers of child marriage in their everyday lives.
"Having boys and men with gender sensitive-behavior will create more opportunities to promote more equal relation with girls, preventing risky behaviors such as child pregnancy that usually lead to child marriage," he said. "Engaging boys and men in eliminating child marriage basically shows that this is not only the job of women and girls."
And Rizqi's closing remarks were a reminder to the influential audience to take immediate action and think outside the box when it comes to creating allies in the elimination of child, early and forced marriage.
"Boy's and men's engagement is critical to address gender inequality issues that are the root cause of child marriage. Therefore, I am calling for all ASEAN leaders to invest in creating more platforms to involve and engage more boys and men, and to enable them to advocate for gender equality and eliminating child marriage."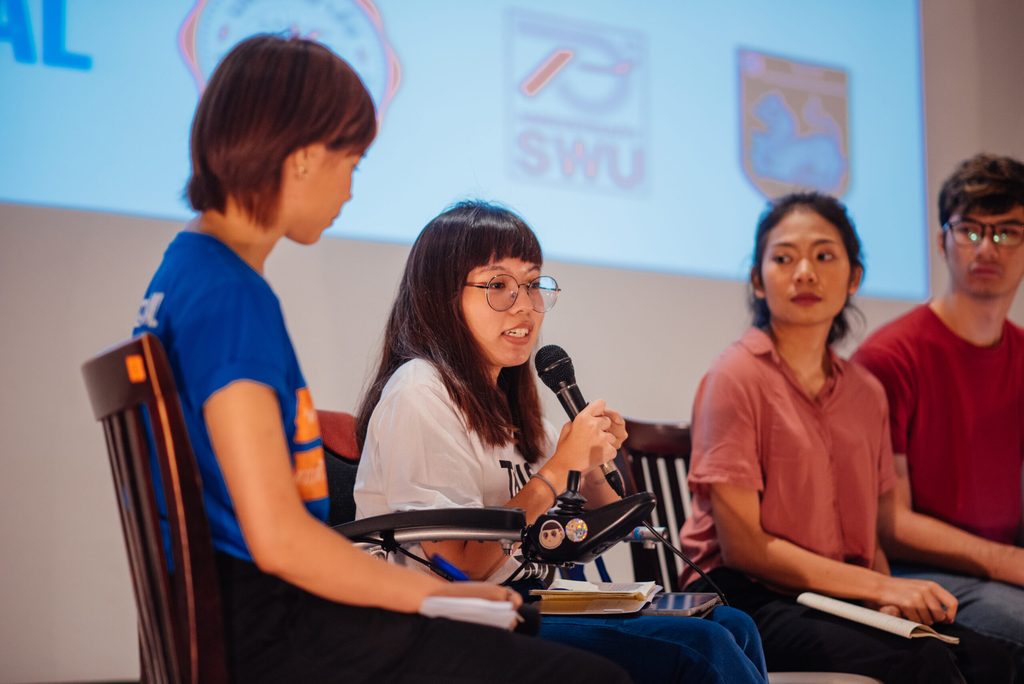 Towards a Child Marriage Free Southeast Asia – Regional Forum
The third regional forum on eliminating child, early and forced marriage – Towards a Child Marriage Free Southeast Asia – was held via video conference, due to pandemic restrictions, on the 17th of November 2021. The forum was organized by the ASEAN Commission on the Promotion and Protection of the Rights of Women and Children and Plan International, with support from the ASEAN secretariat. The forum used current data and evidence on the prevalence of child marriage to highlight the unique challenges and potentials of girls and society to eliminate child marriage, and how to accelerate the attainment of gender equity and girls` empowerment. Above all, the forum's goals were to build upon the progress and recommendations made in the first two forums and to complement global efforts being made to accelerate the elimination of child marriage by 2030, in relation to the Sustainable Development Goals.
The overall purpose of the forum was to ensure continuity of dialogue among the multiple stakeholders in ASEAN, and exchange views and good practices to drive the agenda forward. With a special focus given to the emerging and ongoing challenges and crises particularly escalated by the COVID-19 pandemic.
Education, Girls Get Equal, Protection from violence, Sexual and reproductive health and rights, Youth empowerment, Activism, child marriage, Civic engagement, Comprehensive sexuality education, Gender-based violence, girls' leadership, Menstruation, Sexual and reproductive health services, Teenage pregnancy, Youth in media